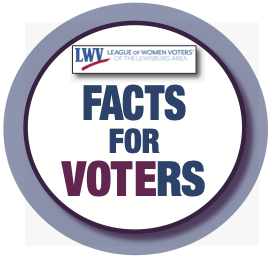 Do you need to contact an elected official, such as your state senator? Do you need to know who is on your borough's Council or who your township's supervisors are? Do you need to know when your school board meets?
The LWVLA non-partisan publication Facts for Voters can help you answer questions like these. It provides residents of Union County with information about their elected officials at the local, state, and federal levels. Facts for Voters also provides information about voting in Pennsylvania. It is published once a year, usually available at the end of February.
For more information about this publication and to download a copy,
click here
.