Looking in the rearview mirror? Many LWVLA events generate videos or documents which can be accessed and enjoyed after the fact. Some of those are available below. 
November 17, 2020:
A recent educational Forum featured Amy Wolaver, Associate Professor of Economics at Bucknell University and Director of the Buckell Institute for Public Policy. Professor Wolaver spoke on "COVID-19, US Public Health and Governmental Response." The retrospective view and current updates were fascinating. Check out the video of Prof. Wolaver's presentation and the rich Q&A period. 
October 20, 2020: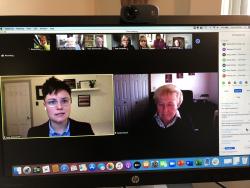 March 8, 2020:
2 Centennials Celebration, honoring the 100th Anniversaries of the passage of the 19thAmendment and the founding of the League of Women Voters.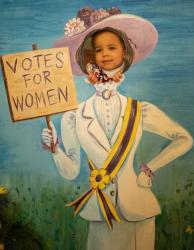 Local columnist Freddi Carlip'sdescription captures the event and its wonderful mood. League of Women Voters Hosts Centennial Celebration.
Live music was provided by Kj Reimensnyder-Wagner.
Credits for songwriters: 
Harriet Tubman - by John McCutcheon
Common Thread - by Pat Humphries
I Am A Woman - by Ruth Pelham
Circle of Women - by Kj Reimensnyder-Wagner
Gentle Loving People - by Holly Near
New Lyrics to the original Auld Lang Syne - music by Robert Burns
We Shall Not Be Moved - Traditional
February 19, 2020:
Monthly Forum, open to public. "Public Education in Union County", featuring Steven Skalka, Superintendent of the Lewisburg Area School District and Daniel Lichtel, Superintendent of the Mifflinburg Area School District.
January 28, 2020:
Monthly Forum, open to the public. "Women's Suffrage 1848-1920", presented by Mary Zimmerman, immediate past president of LWVLA. She taught women's history for 30 plus years at the college level. 
November 2, 2019: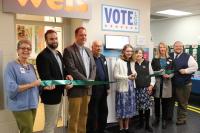 The Mauch Millennial Project partnered with the Lewisburg Children's Museum to create a voting booth exhibit—Vote LCM. Thanks to the Greater Susquehanna Valley Chamber of
Commerce for organizing a ribbon-cutting ceremony for the grand opening. Click here for more information on the Mauch Millennial Project.
2018
The "How to Run For Office" day-long workshop was offered in late 2018 and included panelists spanning levels of government, counties, and political parties. The workshop agenda included getting started on a run for public office, the legal procedures and requirements for candidates, and one session was on coalition building - during which the attendees could talk with political party representatives. Material from the workshop has been updated and is available.