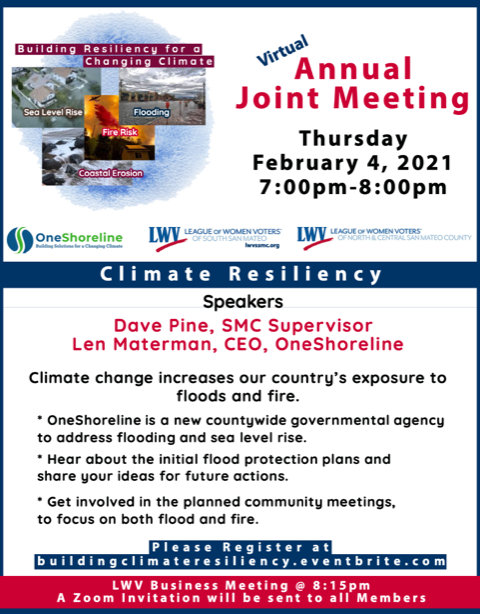 Thursday, February 4, 2021 - 7:00pm to Friday, February 5, 2021 - 6:45pm
The Leagues of San Mateo County are partnering with OneShoreline (San Mateo County Flood and Sea Level Rise Resiliency District) to hold six community meetings addressing the impact and solutions related to sea level rise and our increased risk of wildfire. Our Leagues are taking bold action to jointly hold this series of community meetings because our entire county is at risk. Now, and in the coming years, our county will be considering public policy alternatives, flood protection design options, alternatives to lower fire risk and financing options to implement chosen actions.

 The kickoff for this series will be the program for our County League Day, featuring Supervisor Dave Pine and Len Materman, CEO of OneShoreline; Thursday February 4 from 7:00 to 8:00PM.  Join this community meeting by registering through Eventbrite to receive virtual meeting link.
UPDATE: LINK TO ZOOM HERE  You will also receive Zoom link by email if you have registered with Eventbrite.
The meeting can also be viewed through the YouTube Live Stream.
You can be an ambassador for your neighborhood to help identify organizations and community members who should be invited to our community meetings. This is a great opportunity to work with our elected officials and interested parties to bring them together to tackle some of the biggest challenges to our county.
To submit questions to the community meeting speakers, please email Ora Chaiken (ora [at] odsd.org) or Ann Draper (ann.draper490 [at] gmail.com).
The joint business meeting for San Mateo County league members will follow at 8:15PM on a separate Zoom meeting, please click here to join the virtual meeting.
Looking forward to County League Day 2021!