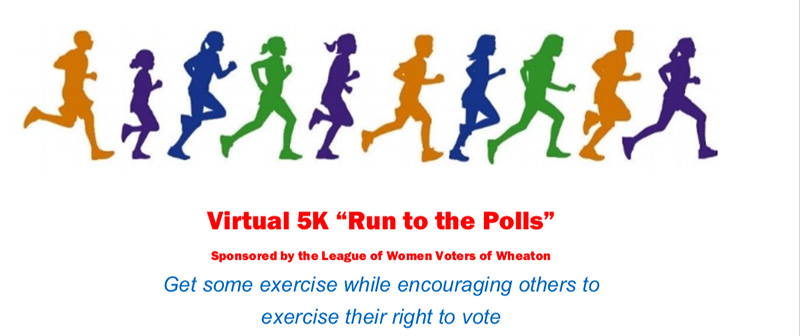 PLACE
Anywhere! Your own neighborhood
DESCRIPTION
Join the league for a VIRTUAL Run/Walk to the Polls 5k! Help us Get Out the Vote by spreading the word through your own neighborhood! Post your finisher certificate and a selfie on social media using #LWVRuntothePolls!
When: October 9-11 (Complete your 5k and submit your time online any time during these dates)
Registration fee: $15 for 6-18 year-olds and $35 for adults. Your registration fee includes a commemorative shirt and a donation to the League of Women Voters of Wheaton! (Your donation is not tax-deductible. Thank you for supporting the League!)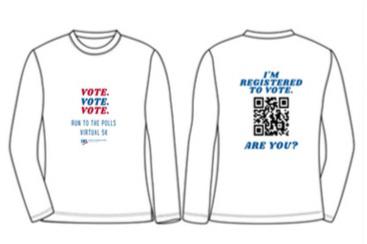 Register by September 24 to be guaranteed your preferred t-shirt size!
Choose your own path! Walk in your own neighborhood. There is no offical course.

Walk or run 5k at your own pace-- A 5k is 6,000 steps, a great way to get your steps in for the day!

Submit your self-timed results
Socially-distanced shirt pickup will take place 1-week before the race on Thursdat, October 8 from 2-6:30 p.m. in the Wheaton Public Library parking lot. If you are unable to make this t-shirt pick up, you can pick up your shirt on Saturday, Oct. 10 at 9:00-10:30 AM. Your shirt can also be mailed to you for an additional $5 shipping cost.
Note: As a virtual race, you select your preferred race route and results are self-timed. For runner safety, all participants are encouraged to adhere to social distancing guidelines and be cautious of traffic and other items/obstacles that may pose a hazard along the chosen race route. Runners may also complete their distance on a treadmill.
RACE CONTACT INFO
If you have any questions about this race, please contact the race director at lwvruntothepolls5k [at] gmail.com

FACEBOOK
Like this page and invite your friends on Facebook.
POSTER
Consider sharing this poster with your friends or printing it out and posting in a public place.