Election Information & Resources
Volusia County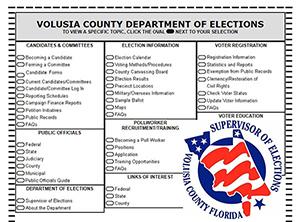 Under the direction of Supervisor Lisa Lewis, the Department of Elections website offers a wealth of voter information and services. Locate the ballot graphic on the lower half of the main landing page to follow links to dozens of subject areas, including:
Learn more about Volusia County Council ... Volusia County Schools ... and find contact information on federal and state elected officials for your district here. 
Eligible individuals can register to vote at any time. The deadline to register in order to participate in an upcoming election is 29 days before the election. The registration deadlines for 2020 are:
Primary Election: July 20 & General Election: October 5.
State of Florida
Follow pertinent bills through the Florida Legislature, at the websites of both the House of Representatives and the Senate. Locate the Find A Bill tab on the right side, type in, in quotes, "Florida Election Code" - this will give you links to the latest actions and texts.
Major Political Party Websites
The Democratic Party | The Democratic Party of Florida | The Volusia County Democratic Party
The Republican Party | The Republican Party of Florida | The Volusia County Republican Party
Full list of all political parties, as filed with the Florida Department of State, Division of Elections.