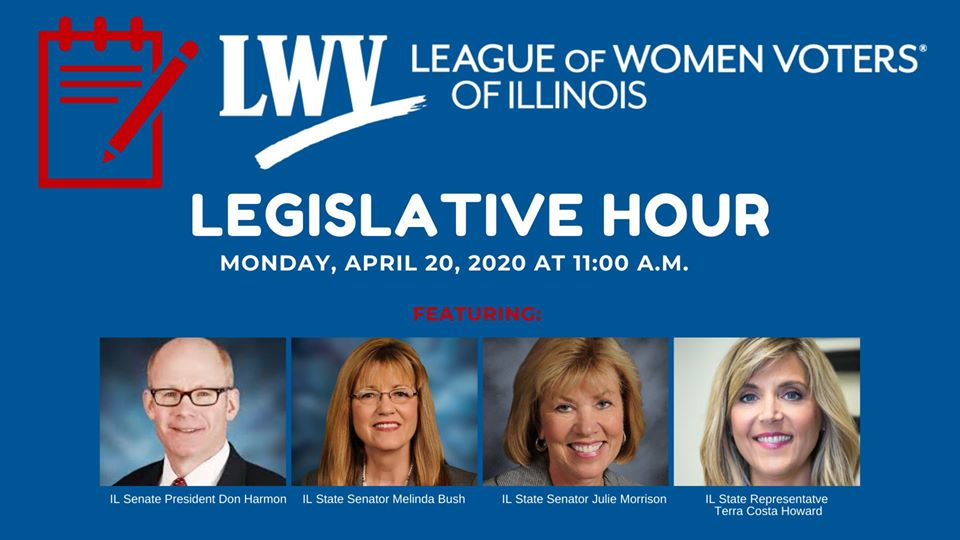 Monday, April 20, 2020 - 11:00am
Legislative Hour
Monday, April 20, 2020, at 11 a.m.
Hosted by League of Women Voters of Illinois
Join the League of Women Voters of Illinois for the inaugural LWVIL Legislative Hour, a virtual 60 minutes with Illinois legislators to discuss issues important to the League, on Monday, April 20 at 11 a.m.
This LWVIL Legislative Hour will feature: IL Senate President Don Harmon, IL State Senator Melinda Bush, IL State Senator Julie Morrison and IL State Representative Terra Costa Howard who will discuss:
How the COVID-19 pandemic is affecting work of the General Assembly
Update on Gun Violence Prevention legislation, Fix the FOID (SB1966)
Update on Fair Maps Advocacy
This event will conclude with an Q & A session. Please submit your questions on April 19 by 10 pm to the Issues & Advocacy Committee. Time is limited but we will attempt to include as many of your questions as possible.
This event is free and open to the first 100 League members who register in advance.
Issues referenced by this event: