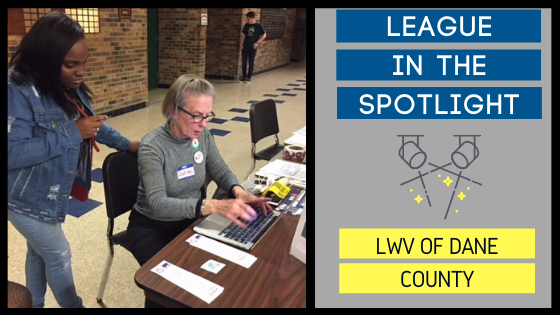 Next Steps for High School Voter Registration
LWV DANE COUNTY's High School Voter Education Action Team is beginning to explore how to move high school voter registration assistance into a virtual realm in light of the present COVID-19 pandemic and uncertainty about the fall school semester. The team already has a high school liaison within each of their participating high schools to establish and support the training of students, who then promote and organize peer voter information/registration drives.  Action team volunteers also provide in-school support for student registration prior to each election. By mid-March, they had worked in partnership with twelve Dane County high schools, training student groups in six schools and registering over 300 students in total. They also partnered with the UW-Madison Precollege Enrichment PEOPLE program at West High School. 
Their future goals are to expand outreach to additional Dane County high schools and continue to promote student  registration activities. In preparation for fall activities, team coordinator Susan Fulks said, "I see the value of creating a virtual presentation to share with our high school contacts. We already have student cards with detailed voter registration instructions so that information could be transferred into a virtual presentation. Since we already have a contact within each of the high schools we worked with this year, we could provide them with the presentations to include in their lessons or just post somewhere for student reference. Ideally we could recruit students to create the presentations."
Like LWV Dane County, many of our local Leagues are beginning to think through the possibility of virtual high school registration learning before the fall election. LWVUS has created resources for both this effort and regular voter registration campaigns during COVID-19.  To learn more, view these materials: Virtual High School Voter Registration Lesson and Voter Registration Activities During COVID-19.
League to which this content belongs:
Wisconsin