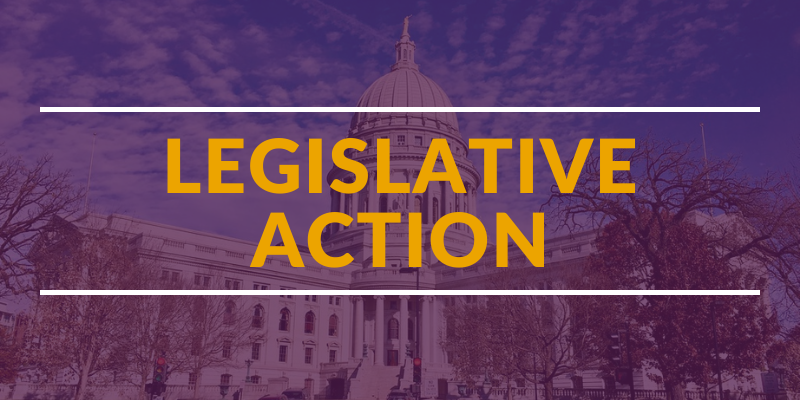 Legislative Committee
The Legislative Committee of the League of Women Voters of Wisconsin (LWVWI) directly reacts to Wisconsin legislation on the League's behalf. It is composed of members from around the state who work together to analyze legislation and agency rules as they are introduced in the state legislature and recommend action to promote the League's policy goals. Legislative Committee actions can include:
Registering in support or opposition of a bill
Helping to develop advocacy toolkits on bills
Sending action alerts to League members
Testifying at legislative hearings
All legislative action is justified by the League's policy positions that have been adopted by membership – some of which have been around for several decades
If you're interested in joining the LWVWI Legislative Committee, please reach out to legcomchairlwvwi [at] lwvwi.org or fill out the form below and email it to legcomchairlwvwi [at] lwvwi.org or asoluna [at] lwvwi.org.
Legislative Committee Signup Form
Sign up for LWVWI Legislative Action Update emails
Current Action
| | | |
| --- | --- | --- |
| Assembly Bill 1 and Senate Bill 1, relating to: establishing a flat individual income tax rate. | LWVWI Opposes AB 1 and SB 1 | |
| Assembly Bill 21, relating to: removing voters from the official voter registration list. | LWVWI Opposes AB 21 | |
| Assembly Bill 70 and Senate Bill 96, relating to: participation in a riot and providing a penalty. | LWVWI Opposes AB 70 and SB 96 | |
| Assembly Bill 101, relating to: creating an ineligibility period in the Medical Assistance and FoodShare programs for voluntary employment termination. | LWVWI Opposes AB 101 | LWVWI Statement on AB101: "Fast tracking legislation limits time for public input and fiscal impact analysis. The League supports transparency and accountability. Burdensome criteria to access needed public benefits negatively impact this state's most vulnerable populations." |
| Assembly Bill 146, relating to: local guaranteed income programs. | LWVWI Opposes AB 146 | LWVWI Statement on AB146: "Fast tracking legislation limits time for public input and fiscal impact analysis. The League supports transparency and accountability. Burdensome criteria to access needed public benefits negatively impact this state's most vulnerable populations." |
| Assembly Bill 147, relating to: changes to unemployment insurance law and requiring Joint Committee on Finance approval of certain federally authorized unemployment benefits. | LWVWI Opposes AB 147 | LWVWI Statement on AB147: "Fast tracking legislation limits time for public input and fiscal impact analysis. The League supports transparency and accountability. Burdensome criteria to access needed public benefits negatively impact this state's most vulnerable populations." |
| Assembly Bill 148 and Senate Bill 245, relating to: disenrollment and eligibility changes for the BadgerCare Plus program and database confirmation. | LWVWI Opposes AB 148 | LWVWI Statement on AB148 and SB245: "Fast tracking legislation limits time for public input and fiscal impact analysis. The League supports transparency and accountability. Burdensome criteria to access needed public benefits negatively impact this state's most vulnerable populations." |
| Assembly Bill 149, relating to: various changes to the unemployment insurance law. | LWVWI Opposes AB 149 | LWVWI Statement on AB149: "Fast tracking legislation limits time for public input and fiscal impact analysis. The League supports transparency and accountability. Burdensome criteria to access needed public benefits negatively impact this state's most vulnerable populations." |
| Assembly Bill 150, relating to: changes to unemployment insurance law, federal Reemployment Services and Eligibility Assessment grants, and rule-making authority. | LWVWI Opposes AB 150 | LWVWI Statement on AB150: "Fast tracking legislation limits time for public input and fiscal impact analysis. The League supports transparency and accountability. Burdensome criteria to access needed public benefits negatively impact this state's most vulnerable populations." |
| Assembly Bill 151, relating to: workforce metrics. | LWVWI Opposes AB 151 | LWVWI Statement on AB151: "Fast tracking legislation limits time for public input and fiscal impact analysis. The League supports transparency and accountability. Burdensome criteria to access needed public benefits negatively impact this state's most vulnerable populations." |
| Assembly Bill 152, relating to: changes to unemployment insurance law and authorizing the secretary of administration to transfer employees from any executive branch agency to the Department of Workforce Development. | LWVWI Opposes AB 152 | LWVWI Statement on AB152: "Fast tracking legislation limits time for public input and fiscal impact analysis. The League supports transparency and accountability. Burdensome criteria to access needed public benefits negatively impact this state's most vulnerable populations." |
| Assembly Bill 153, relating to: the amount of benefits received under the unemployment insurance law. | LWVWI Opposes AB 153 | LWVWI Statement on AB153: "Fast tracking legislation limits time for public input and fiscal impact analysis. The League supports transparency and accountability. Burdensome criteria to access needed public benefits negatively impact this state's most vulnerable populations." |
| Assembly Bill 180 and Senate Bill 169, relating to: establishing a hotline for employers interested in hiring individuals with a conviction record | LWVWI Supports AB180 and SB169 | |
| Assembly Bill 228 and Senate Bill 227, relating to: changing the name of the earned income tax credit | LWVWI submitted comment on AB228 and SB227 | LWVWI Statement on AB228 and SB227: "The LWVWI supports efforts to clarify programs that help children and families, but shares concerns expressed by the WI Department of Revenue that this legislation could result in even more confusion and perhaps less participation by those in need." |
| Assembly Bill 245 and Senate Bill 301, relating to: a large number of county and municipal changes | LWVWI Opposes AB 245 | LWVWI Statement on AB245 and SB301: "This bill should be amended to break out the various policy issues into their own bills." |
| Assembly Bill 298 and Senate Bill 366, relating to: polling place closures | LWVWI submitted comment on AB298 and SB366 | LWVWI Statement on AB298 and SB366: "We oppose sudden closures of polling places but want more flexibility for smaller polling municipalities and for emergencies." |
| Assembly Bill 305 and Senate Bill 330, relating to: changes to school choice programs and school revenue ceilings. | LWVWI Opposes AB305 and SB330 | |
| Assembly Bill 321 and Senate Bill 329, relating to: reading instruction and inventention. | LWVWI Opposes AB321 and SB329 | |
| Assembly Bill 357 and Senate Bill 343, relating to: the definition of abortion. | LWVWI Opposes AB357 and SB343 | |
| Assembly Bill 390 and Senate Bill 424, relating to: modifying administrative rules relating to assistant child care teachers. | LWVWI Opposes AB390 and SB424 | LWVWI Statement on AB390 and SB424: "The Bill fails to address low wage and unstable workforce challenges facing WI child care centers. Lowering age for teachers to 16 and removing supervision guardrails raises safety/quality concerns for young children under care and employed youth." |
| Assembly Bill 391 and Senate Bill 423, relating to: modifying administrative rules regarding the number of child care workers and children in group child care centers. | LWVWI Opposes AB391 and SB423 | LWVWI Statement on AB391 and SB423: "Current child/teacher ratio ensures safety, adequate care/supervision, and high quality interactions promoting child well-being. Our current group-child ratios align with national best practices and neighboring states, including IN, MI, and MN." |
| Assembly Bill 415 and Senate Bill 488, relating to: legislative redistricting. | LWVWI Opposes AB415 and SB488 | |
| Senate Bill 26, relating to: removing voters from the official voter registration list. | LWVWI Opposes SB 26 | |
| Assembly Joint Resolution 1 and Senate Joint Resolution 2, relating to: conditions for release prior to conviction, including the imposition of bail | LWVWI Opposes AJR 1 and SJR 2 | |
| Assembly Joint Resolution 3 and Senate Joint Resolution 4, relating to: providing for an advisory referendum on the question of requiring able-bodied, childless adults to look for work in order to receive taxpayer-funded welfare benefits. | LWVWI Opposes AJR 3 and SJR 4 | |
Past Action
Wisconsin 2021-23 Biennial Budget
Previous Legislative Session
Subscribe to LWVWI Legislative Action Update Emails