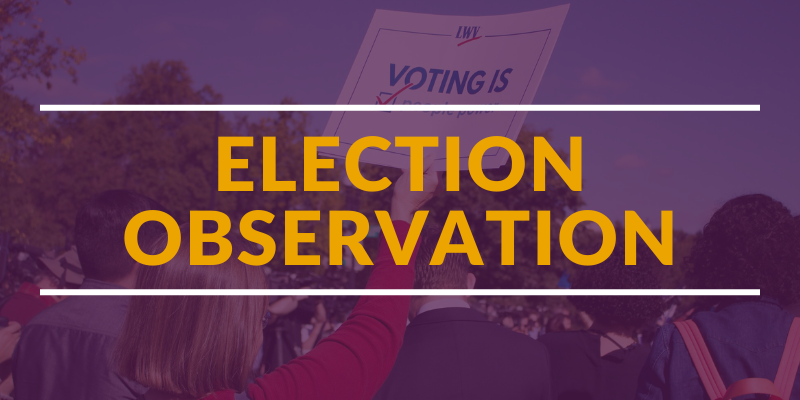 Program Background
Wisconsin is one of the few states where elections are administered at the municipal level—not the county level. With over 1,800 cities, towns and villages in the state, discrepancies in election administration are bound to occur. To understand how elections were run in different parts of the state, The League of Women Voters of Wisconsin launched a pilot initiative in 2010 with 15 volunteer observers in 18 polling sites.
Since 2010, the LWVWI Election Observation Program has grown significantly thanks to funding from the LWVUS Public Advocacy for Voter Protection program, The Brico Fund and others, an excellent coalition of partners within Wisconsin, as well as dedicated, experienced volunteers and staff. We especially appreciate our volunteer observers, who have provided exceptionally reliable, courteous and invaluable service. Many have continued to assist our program as observers through several elections. Others have gone on to further serve the public by becoming election officials in their communities.
In the years since we launched the pilot program, we have seen major changes in Wisconsin election law including:
Passage of the voter photo ID law.
Reduction in the time allowed for early in-person absentee (early) voting.
Restrictions on voter registration, including Election Day Registration, particularly in the increased documentation required.
Other new procedures in polling place administration, including a requirement to sign the poll book and changes in the rules for election observers.
The League's election observers have documented the implementation of these changes by local elections officials across the state. This program's reports have provided supporting evidence in the League's advocacy with state and local officials for open, fair and efficiently administered elections.
Election Observation Program Reports
Become an LWVWI Election Observer
Help the League of Women Voters of Wisconsin monitor Wisconsin's elections. We are seeking volunteers to be trained as Election Observers and placed in polling places in specific areas around the state. You don't need to be a League member to volunteer for this -- although we'd love to have you join us!
For the 2022 elections we are focusing the Election Observation Program on:
to be sure there is no disenfranchisement
to monitor the voter experience - including registration and showing ID
to monitor the absentee ballot counting process
to track any problems that can be fixed in future elections