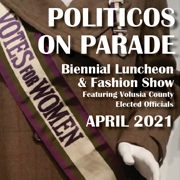 Although we had to postpone the 2020 Politicos on Parade Fundraiser, we were ready to go to press with a full complement of these valued supporters and program advertisers.
We'd like to recognize them here - in advance - and then thank them again next year when we circle back to host the event, and finally go to print to publish the official program. Before we were placed on hold, the 2020 Politicos on Parade supporters included:
Aaron Kilman Jewelers, Inc.
ACLU
Adopt a Cat
Associated Printing
Athas Kometas DMD, PA
Atlantic Foot & Ankle
Atlantic Hearing, Balance & Tinnitus Center
Atmosphere Salon
Belk at the Pavilion
Brown and Nawrocki
Certified Public Accountants
Clifford Share, M.D.
Daytona State College
DB International Airport
Drain Masters
Every & Stack
First Florida Insurance
Halifax Veterinary Center
Indigo Dental
Jessup's of Daytona, Inc.
Leanh's Chinese Restaurant
Legacy Law Associates, P.L.
LWVVC
Market Place ar Rivertown Blvd.
Mary S. Harrell Black Heritage Museum
Masterpiece Jewelers
NAACP
Pinnacle Awards & Promotions
PURE Skin and Body Care
Renew Yoga
Rice Law Firm
Simply Roses
Spacecrafters
Stetson
Stylez by Staton
The Hair Stop
Together Unisex
Tom Cook Jewelers
Unitarian Universalist Church
Vondas Hair Salon
Wells Fargo Advisors
Winchester Computers
With Substance, Inc.
York's Automotive Repair
We thank these generous advertisers, for their new-or-ongoing support of the event and patience as we re-schedule this popular and important FUNdraiser.