Minnesota Voter Registration and Information
Register to vote or change your voter registration online, learn about day-of-election voting requirements, obtain sample ballots, and locate where to cast your ballot ... and more at the Minnesota Secretary of State's website:
1-877-600-VOTE (8683)
MN Relay Service: 711
Some MnVotes Direct Links 
Secretary of Steve Simon Answers Students' Questions about Voting, September 2020
Early Voting
Ways to Vote Early
in person at city and county election offices during business hours beginning 46 days before Election Day
by mail

Mailed ballots require another registered voter to witness your ballot completion

by hand delivering completed Absentee Ballot (including completed envelopes) to your city or county Election Office (not your usual polling place)
Paul Linell, Anoka County Elections Manager, Demonstrates How Absentee Ballots Are Processed, August 2020
Back to Top
Minnesota Election Calendar 2024
| | |
| --- | --- |
| January 19, 2024 | Early Voting Begins for Presidential Primary |
| February 13, 2024 | Last Day to Pre-register to Vote in Presidential Primary |
| February 13, 2024 | SPECIAL ELECTION DAY - Columbia Heights (Question) |
| February 27, 2024 | Precinct Caucus |
| March 5, 2024 | PRESIDENTIAL PRIMARY |
| April 9, 2024 | SPECIAL ELECTION DAY |
| May 14, 2024 | SPECIAL ELECTION DAY |
| June 28, 2024 |  Early Voting Begins for Primary Election |
| July 23, 2024 | Last Day to Pre-register to Vote in Primary Election |
| August 13, 2024  | STATE PRIMARY ELECTION – polls open 7:00am to 8:00pm |
| September 20, 2024 | Early Voting Begins - In-person and by Mail for General Election |
| October 15, 2024 | Last Day to Pre-register to Vote for General Election |
| November 2, 2024 | Saturday Absentee Voting - 10:00am to 3:00pm |
| November 5, 2024 | GENERAL ELECTION DAY – polls open 7:00am to 8:00pm |
Voter Rights
Minnesota Voter Bill of Rights
Minnesota has a Voter Bill of Rights defined in state law.  Rights include the right to vote if in line at 8:00 pm, right to replace a spoiled ballot, right to same day registration with proof of residence, right to bring a sample ballot to vote and right to request special assistance to vote. 
Minnesota does not require a picture ID to vote.  Only people who need to register to vote are required to show a picture ID.
For a complete list of your rights see:
"See Something, Say Something" on Election Day
Ensuring the rights of voters is up to all of us.
If you experience or observe another voter experience intimidation or believe your or someone else's voting rights are being violated:
1. Tell your Chief Election Judge
Every precinct has a Chief Election Judge to resolve any problem, big or small, on election day. Most concerns can be immediately addressed by the Chief Election Judge.  The Chief Election Judge has ongoing contact with local election officials for assistance.
2. Call your Election Officials
Contact your city election office, your county elections office or the Secretary of State on election day if your concern is not addressed at the precinct level.
3. File a written complaint with your county attorney.
4. Contact the Voter Protection Hotline 
If your local officials are unable to resolve your concerns to your satisfiction, report your concerns and get free legal advice from Voter Protection,  a national, non-partisan coalition.
National Voter Protection Hotline
 English: 866-OUR-VOTE hotline (866-687-8683)
 Spanish:  888-VE-Y-VOTA (888-839-8682)
 Asian languages:  888-API-VOTE (888-273-8683)
Arabic:  888-YALLA-US (844-925-5287)
Election Security and Integrity
Minnesota has many protections in place - before, during and after election - to ensure our elections remain secure.  Find out more:
Anoka County Election Manager Tom Hunt and Minnesota Secretary of State Deputy Elections Director Paul Linnell Discuss 2022 Election Security
2022 Redistricting Maps
All election districts were updated in 2022,  based on the 2020 US Census. Download legislative district maps at the Secretary of State's Legislative District Maps webpage or at the Legislative Coordinating Commission Redistricting webpage.  View precinct maps and city ward district maps at your city elections website. 
Find your new districts by entering your address at the Minnesota Secretary of State Poll Place Finder.  
Map of Precincts in Anoka County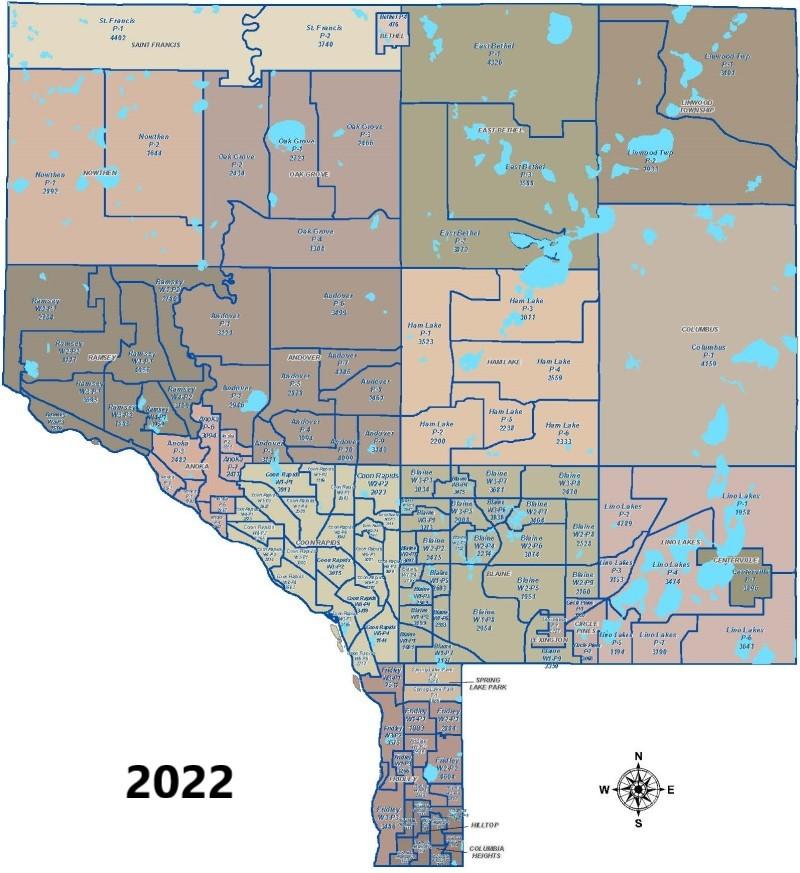 Map of Commissioner Districts in Anoka County
Map of Conservation Districts in Anoka County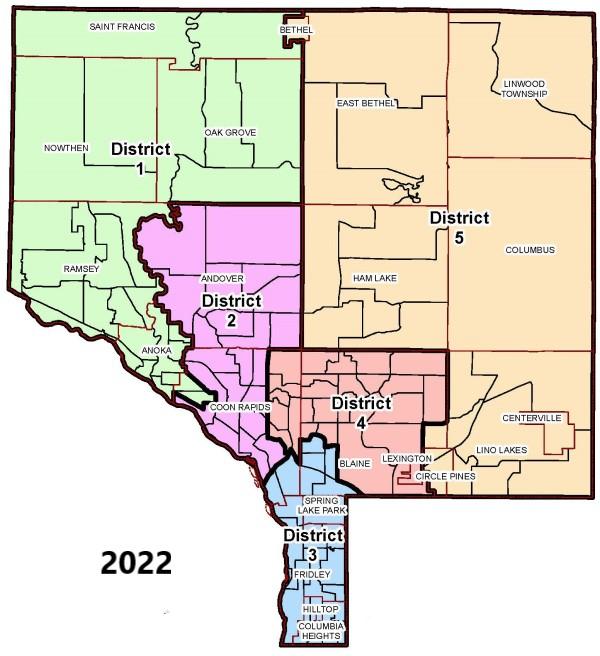 Map of Minnesota Legislative Districts in Anoka County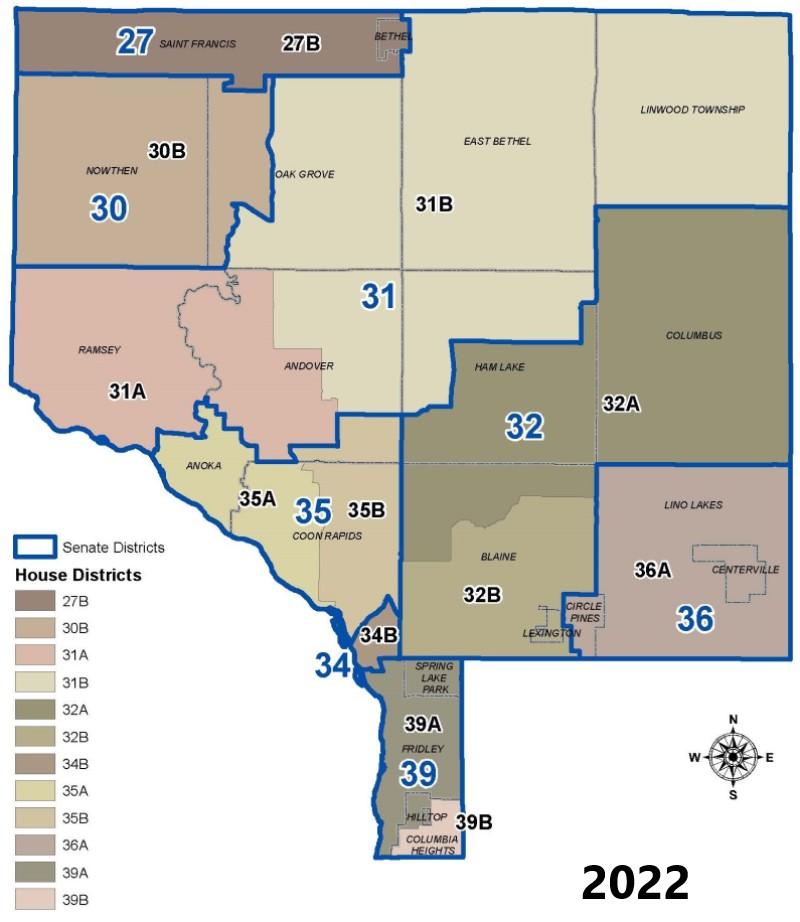 Map of US Congressional Districts in Anoka County