2020 Press | 2019 Press | 2019 Cable TV 
2020 Press

 Anoka County History: County Board's First Female Commissioners
By Anoka County Historical Society, ABC Newspapers, Mar 3 2020
"With Women's History Month upon us already, the Anoka County Historical Society would like to acknowledge several Anoka County women who have made an impact on our local history. Margaret Langfeld and Natalie Haas Steffen hold the honor of being the first two women elected to the County Board, 125 years after the county was established..." READ MORE
Legislators Sit Down With Voters in Ramsey
Connor Cummiskey, Staff Writer and Photographer, ABC Newspapers, Jan 21 2020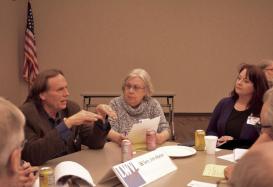 "Redistricting was a hot topic at every table during an informal discussion with local legislators in Ramsey last week.
Rep. Melissa Hortman's, DFL-Brooklyn Park; Rep. Zack Stephenson, DFL-Coon Rapids; Sen. Jim Abeler, R-Anoka; and Sen. John Hoffman, DFL-Champlin, sat down with approximately 40 voters Jan. 9 at tables in Ramsey City Hall to conduct informal discussions..." READ MORE
 Century of Suffrage Celebrated
Connor Cummiskey, Staff Writer and Photographer, ABC Newspapers, Jan 17 2020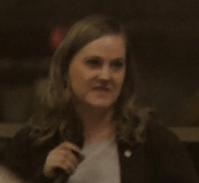 A traveling exhibit celebrating 100 years of women voting opened Jan. 13 in the Northtown Branch of the Anoka Library system.
Approximately 35 attended the ceremonial opening of the traveling exhibit called 'A Century of Civic Engagement.' During the evenings festivities ..." 
READ MORE
Anoka County Library: Votes for Women
By Lydia Potthoff of Anoka County Library, ABC Newspapers, Jan 10, 2020
"The Minnesota Legislature voted to approve the 19th Amendment to the U.S. Constitution on Sept. 8, 1919. Less than a year later, the United States ratified the constitutional amendment guaranteeing the women's vote. While the 19th Amendment's ratification was the culmination of more than 70 years of struggle for women's suffrage in the United States, the work of the League of Women Voters Minnesota had just begun..."  READ MORE
Women and Men Making Democracy Work
Kathy Aanerud, Anoka County Library Activity Guide, Winter/Spring 2020, page 35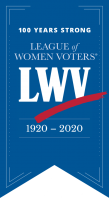 "In an historic vote on September 8, 1919, the Minnesota Legislature voted YES to ratify the 19th Amendment to the US Constitution, granting women the right to vote and ending the 72-year struggle for women's suffrage.
But as distinguished Minnesota suffragist Clara Ueland said that day, "Today is the commencement rather than the end of our work." "   
Read More