Positions | Voting Priorities | Priorities for Biden Administration | Other Priorities 

LWVUS public policy position statements serve as the basis for the national, state and local Leagues to take action. Position statements are adopted every two years at the national League of Women Voters Convention, after lengthy study and consensus by League members. 
Public Policy Positions of LWVUS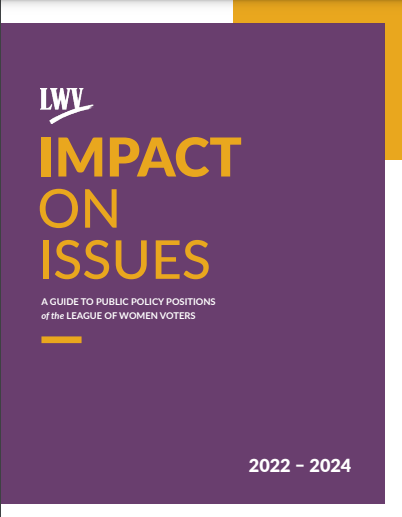 Impact on Issues: A Guide to Public Policy Positions 2022 - 2024 
LWVUS Position Priorities 
Current LWVUS Voting Rights Priorities
We fight to increase voters' access to the polls, including expanding early voting, automatic and online voter registration.

Congressional districts and government legislative bodies should be apportioned substantially on population. We oppose partisan and racial gerrymandering that strips rights away from voters.

Elections should be about the voters not big money interests. It's time to limit SuperPACs and secret donors to protect representative democracy.

We challenge all efforts and tactics that threaten our democracy and limit the ability of voters to exercise their right to vote.

We believe that the direct popular-vote method for electing the President and Vice-President is essential to representative government. We support the use of the National Popular Vote Compact as one acceptable way to achieve the goal of the direct popular vote for election of the president until the abolition of the Electoral College is accomplished.
Other Current LWVUS Priorities
Every U.S. resident should have access to affordable, quality health care, including birth control and the privacy to make reproductive choices.
As citizens of the world we must protect our planet from the physical, economic and public health effects of climate change while also providing pathways to economic prosperity.
The U.S. Census data is used to make decisions around education, healthcare, infrastructure, and political representation. With increased growth in the country, getting an accurate and complete count of every person living within is crucial to ensure that each state receives funding to support the number of residents in each state.
Immigration policies should promote reunification of immediate families; meet economic, business and employment needs; and be responsive to those facing political persecution or humanitarian crises.
Nine LWVUS Priorities in the New Biden Administration
Pass the For The People Act 
Restore the Voting Rights Act
Implement Fair Redistricting
Ensure Equal Rights For All
Comprehensive Immigration Reform
Address Climate Change Crisis
Ensure Quality Health Care For All Americans
End Gun Violence In America
Secure Peace And Climate Justice Abroad
LWVUS Blog - Hopes of a New Era of Progress, Peace, Prosperity, and Unity