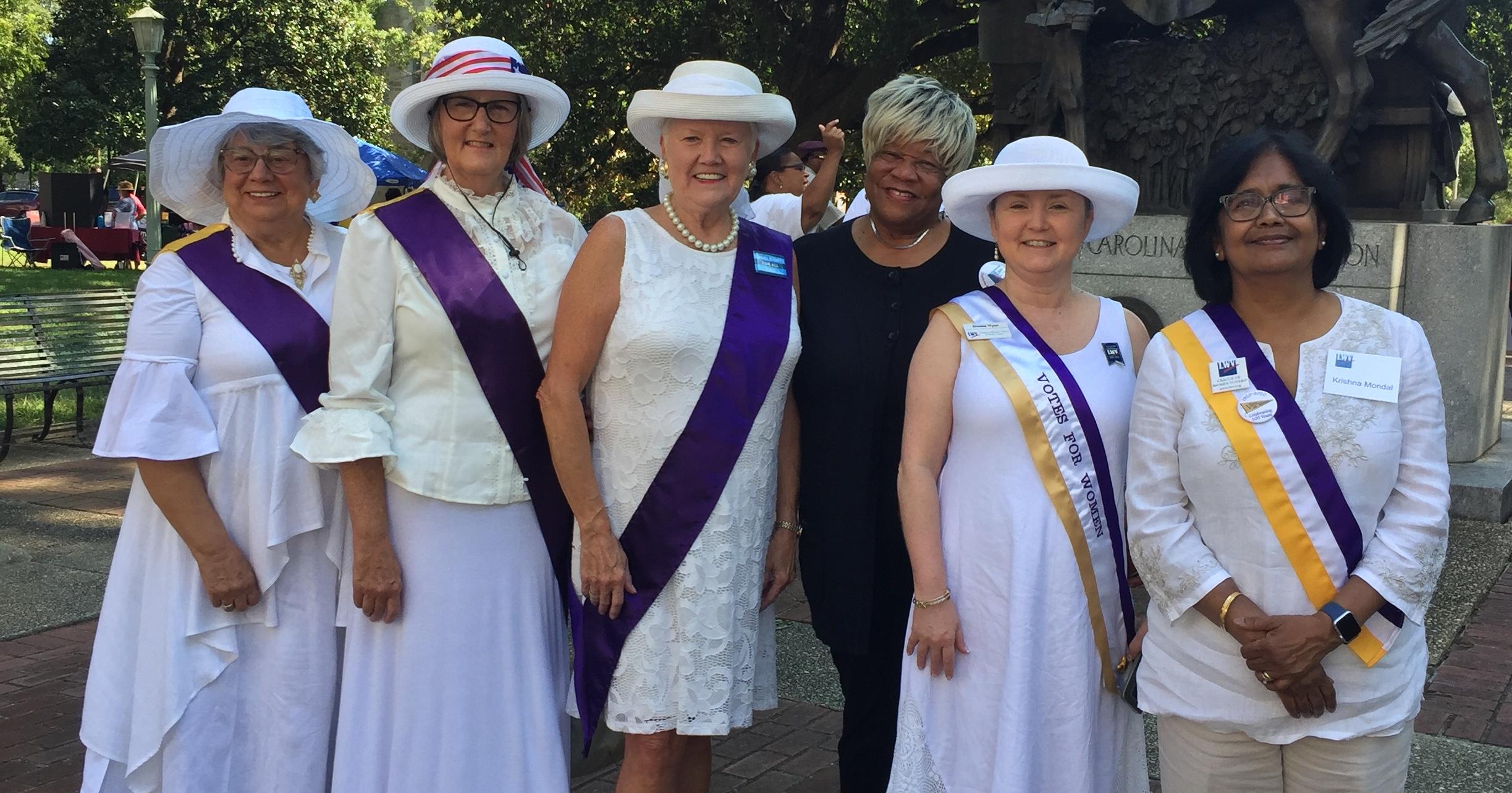 The purpose of the League of Women Voters is to promote political responsibility through informed and active participation in government at all levels.
The League of Women Voters is nonpartisan in that it does not support or oppose any political party of candidate. The League takes positions on selected governmental and other issues after study and consensus. The League recognizes the role of political parties in government and believes that participation in the activities of parties is an essential ingredient of citizen responsibility. While the LWVNC urges its members to be politically active, certain constraints are necessary to maintain the nonpartisanship of the League as an organization and its tax exempt status.

The League of Women Voters has two separate and distinct roles:
| | |
| --- | --- |
| Voters Service/Citizen Education | Action/Advocacy |
| We present nonpartisan information about elections, the voting process and a range of issues. We produce voter guides and organize candidate debates and forums for primary and general elections. | The League is a non partisan organization, which after study, uses our positions to advocate for or against particular policies in the public interest. |
League of Women Voters of North Carolina, Inc.
The League of Women Voters of North Carolina established in 1984 a 501(c)(3) nonpartisan, nonprofit, public-policy educational organization. League of Women Voters of North Carolina, Inc. provides funding for research, publications and materials, and enables LWVNC to hold forums and to disseminate information and training to citizens. Projects must present fair, objective, non-partisan information to the general public. Projects cannot advocate for legislation or urge any action to affect legislation, and they cannot support candidates for office. Donations to League of Women Voters of North Carolina, Inc. are tax-deductible. 
LWVNC Advocacy
The purpose of the LWVNC Advocacy (LWVNCA) is to influence policy for proposed or current legislation related to positions adopted by LWVNC or LWVUS. The LWVNCA is a 501(c)(4) organization that does not support or oppose any political party or candidate. Contributions made to LWVNCA are not tax deductible.
Policy Positions
League action occurs at every level of government after members reach a position on an issue. A League "position" is defined as: (1) a set of guidelines by which proposed government action can be measured; or (2) an expression of League goals against which proposed government action can be evaluated. League boards, with guidance from the membership, can then study proposed legislation or regulations, and have the flexibility to work with others to achieve our goals. The League board decides whether to support or oppose proposed measures on specific issues.
Here are our policy positions, approved in 2023. For national positions held by the League of Women Voters, consult "Impact on Issues: A Guide to Public Policy Positions," which is published biennially by the League of Women Voters of the United States. The publication is a comprehensive resource designed to help League members use LWVUS public policy positions effectively at the national, state, local, and regional levels.  
The History of the League
Since its inception, the League has helped millions of women and men become informed participants in government. In fact, the first League convention voted 69 separate items as statements of principle and recommendations for legislation. Among them were protection for women and children, the rights of working women, food supply and demand, social hygiene, the legal status of women, and American citizenship.