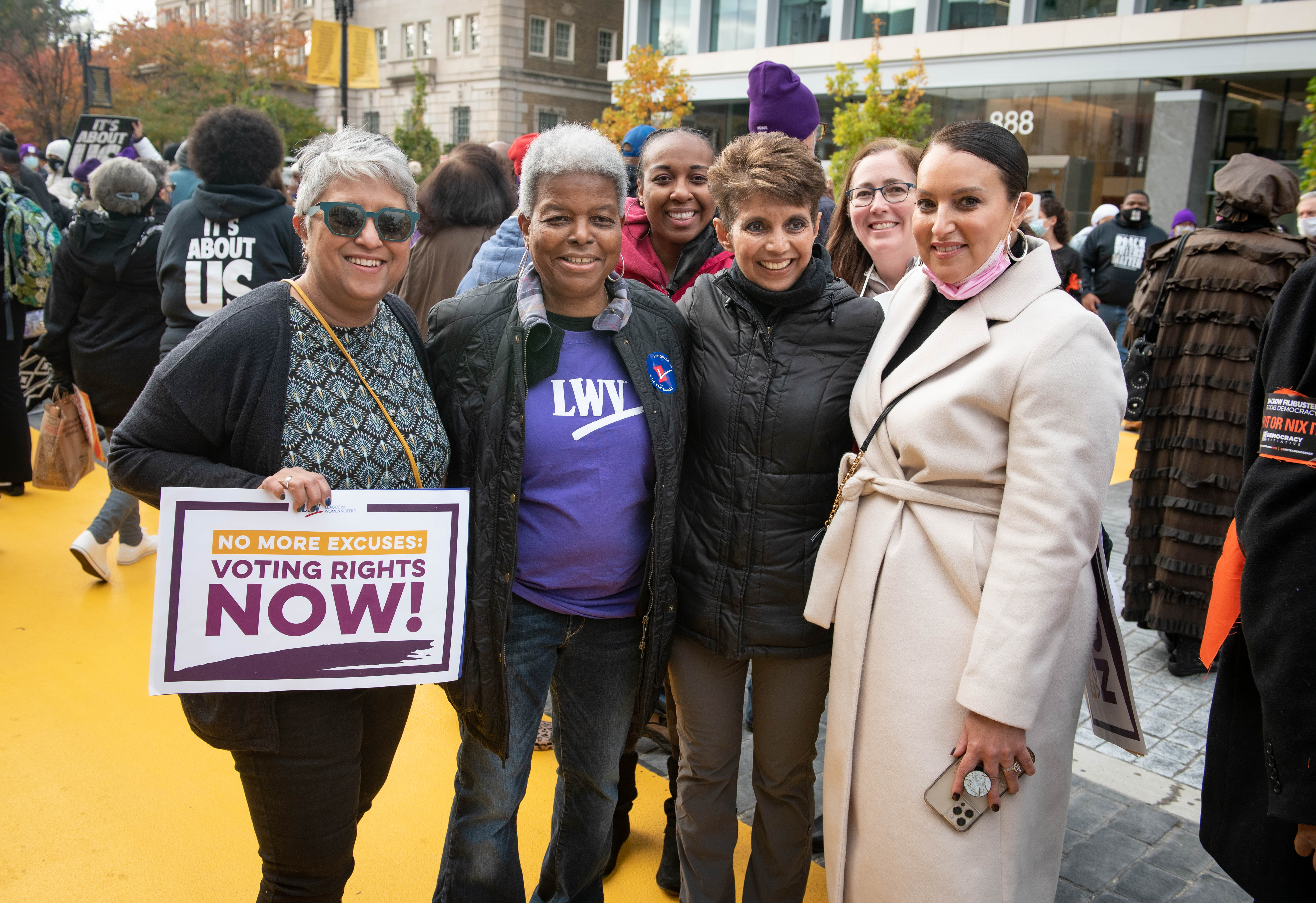 The League of Women Voters (LWV) is a nonpartisan organization, not supporting or opposing any political party or candidate. But we affect change, taking a stand – and taking action – on a number of positions of utmost importance to voters like you. We come together and arrive at public policy positions through member understanding and agreement. LWV is a multi-issue, multi-level organization. We act on governmental issues at the local, state, and federal levels.
The League of Women Voters believes: 
in representative government and individual liberties established in the Constitution of the United States
that democratic government depends upon informed and active participation in government
every citizen should be protected in the right to vote
responsible government should be responsive to the will of the people

Access our full principles here. 
Selected League of Women Voters of North Carolina Public Policy Position Excerpts


Representative Government
Promote government that is open, accountable, ethical, and responsive to citizens. We encourage citizen participation on NC boards and commissions.
Protect the right of all citizens to vote and encourage all citizens to vote through election laws and voter protection measures that emphasize full participation of all citizens in the democratic process.
Support redistricting processes performed by an open, diversely representative, and independent special commission that adheres to specific timelines for planning, disclosure processes, public hearings, remedies, and standards enforceable in a court of law among other provisions.
Natural Resources
Promote an environment beneficial to life through the protection and wise management of natural resources in the public interest by recognizing the interrelationships of air quality, energy, land use, waste management, and water resources.
Social Policy 
Promote social, legal, and economic justice.
Promote constitutional equality and secure rights for all.
Combat discrimination and poverty.
Promote fair treatment of all citizens involved in the criminal justice system.
Build public trust and positive community relationships through law enforcement engagement with community members and encourage community participation in the development of law enforcement policy.
Support full access to a PK-12 public education with sustained secure, sufficient, and equitable state funding to promote continuous student growth and achievement.
Complete Guides to LWV Public Policy Positions
LWVUS 
LWVNC 
A League position is defined as a set of guidelines by which proposed government action can be measured; or an expression of League goals against which proposed government action can be evaluated. LWV studies issues of interest and members may agree to approve position statements for future action. All LWV action is grounded in these position statements along with League Principles. The work of LWV is done while applying the lenses of diversity, equity, and inclusion.