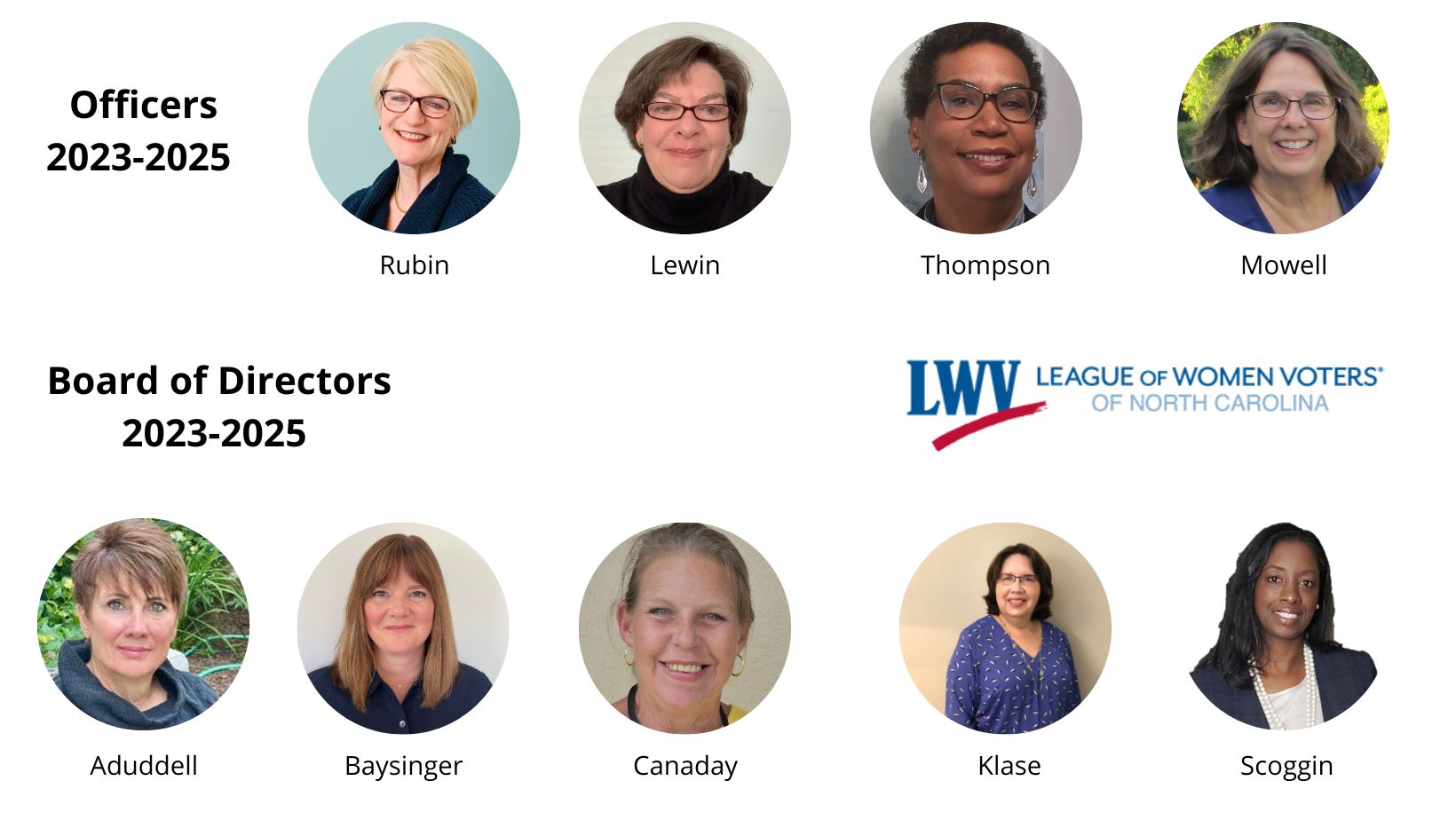 Raleigh, NC, July 4, 2023 – The League of Women Voters of North Carolina announces the election of its new board of directors. The board's two-year tenure began on July 1, 2023. 
Six directors and officers are returning, while three directors are new to the board. 
Officers and directors are: Jennifer McMillan Rubin, president (Durham); Marian Lewin, vice president (Raleigh); Mary Thompson, treasurer (Raleigh); Sandra Mowell, secretary (Hendersonville); Regan Aduddell, director (Waxhaw); Sara Baysinger, director (Charlotte); Rebecca Klase, director (Greensboro); Tiffany Canaday, director (Hickory); and Velvet Scoggin, director (Jacksonville). 
President Jennifer McMillan Rubin of Durham has been a member of the League since 2015 when she joined LWV Orange, Durham, Chatham Counties (LWVODC). Her League experience includes serving as chair of the LWVNC Environment League Action Team and serving on the LWVODC board as communications team leader, vice president, and president. She became 2nd VP on the LWVNC board in 2019, overseeing communications. A North Carolina resident for 30 years, her work experience includes managing public relations, patient advocacy, community affairs, and media relations for GlaxoSmithKline for more than 17 years. She has also headed her own communications consulting firm, where she advised pharmaceutical and health care clients. A volunteer for numerous nonprofit and community organizations over the years, she is currently a board member of the Center for Child and Family Health in Durham, a community-based organization that provides support and clinical care for children and families that have undergone trauma. 
Vice President Marian Lewin of Raleigh has served in several leadership positions for LWV-Wake since becoming a member in 1997, including as president from 2014 to 2019. She has focused extensively on voting rights and elections and served as a precinct official in Wake County from 1996-2018. Marian worked in the public policy arena prior to joining the League. In Washington D.C., she worked for the General Accountability Office in the National Security and International Affairs Division, responding to congressional requests for legislative and budgetary analysis of Department of Defense and State Department programs. Marian then worked at the Food and Nutrition Service of the U.S. Department of Agriculture, providing analysis of legislative proposals. In Raleigh, she served as an Assistant to the Commissioner in the N.C. Department of Labor. While in Warsaw, she managed a cooperative agreement between the AFLCIO and the Polish Workers Union, Solidarity. In state government, she served as a special assistant to the NC Commissioner of Labor from 1990-1993. 
Treasurer Mary Thompson moved to Raleigh in 2010. She has been a member of the Wake League since 2018 and serves on the finance committee. Mary is a US Truth, Racial Healing, and Transformation movement member. She uses this as her compass to determine the organizations with which she works. In her view, LWV is an organization that has faced the truth of its past and is not afraid to say and do the things that will move the county toward a perfect union. Mary is vice chair of the Raleigh Human Relations Commission. She is a member of Raleigh Organizing Against Racism (ROAR) and the Raleigh/Apex NAACP. Mary was one of the Wake DEI Committee leaders, holding roundtables in 2021 and 2022. For 20 years, Mary has served as an advocate/ambassador for the Alzheimer Association. 
Secretary Sandra Maddux Mowell of Hendersonville is a member of LWV of Henderson County. In her role as LWVNC secretary since 2021, she has served as the Program Committee Chair for LWVNC Conventions 2021 and 2023 and is working with a group to update the state publication on public policy positions. She has served on the Board of Directors for LWV of Indianapolis and LWV of Cincinnati Area in various positions including Membership Chair, Secretary, and Voter Service VP. Born and raised in Oak Ridge, Tennessee, Sandra received her BA in Theatre Production from the University of Tennessee and worked in a variety of positions with community, professional, theme park, and dinner theaters. 
Director Regan Aduddell of Waxhaw joined the League of Women Voters Charlotte Mecklenburg in 2017 to further her community involvement and better the electoral process. Some of her key initiatives include developing educational programs to empower young voters, establishing accessible registration locations, working with the USCIS, and speaking on the importance of the democratic process. Regan was elected as LWVCM co-president in 2021 and stepped down to join the State Board in 2022. As LWVCM co-president, Regan was invited to participate in an international program hosted by The German Marshall Fund – "Cities Fortifying Democracy" – where she collaborated with members of six national and six international cities regarding issues related to voter engagement. This culminated with a conference in Berlin. Regan is on the LWVCM Board as chair of voter service. She has a background in the medical field as an experienced and longtime registered nurse with a focus in bone marrow transplants and Intensive Care Units. She worked at several hospitals across the country, including Rush Presbyterian St. Luke's Medical Center in Chicago and Duke University Hospital, where she was the head charge nurse. She has held a variety of leadership roles to better educational institutions in Mecklenburg County, from tutoring students to organizing large, multi-faceted events and organizations.
Director Sara Baysinger of Charlotte has been a proud member of LWV Charlotte Mecklenburg since 2021. She assumed the role of newsletter editor in 2022, at which time she increased to a monthly publication schedule. She has served on the LWVCM Board since that time and is the co-lead of the chapter's communications team. Sara is an active participant with the education, environment and sustainability, and Civics 101 action teams. Sara lived in Brooklyn for 25 years, where she and her husband still have a stake in a restaurant, Leland Eating & Drinking House. Sara has been an editor, writer, project director, and small business owner. She was a co-owner of Mice at Play, LLC in New York, a community of women who challenge themselves to step out of their comfort zones to "play" and dare through various adventures, activities, classes, and gatherings. 
Director Tiffany Canaday of Hickory is educated, experienced, and trained in non-profit management and grant writing, research, and proposal, policy, and procedure development. Tiffany has a master's degree in Public Administration from Appalachian State University and a bachelor's degree in Justice & Policy Studies/Political Science from Guilford College. As part of her undergraduate studies, Tiffany completed an internship and independent study with the Government Accountability Project, where she was instrumental in passing the Whistleblower Protection Act of 1989. As part of her graduate studies, Tiffany completed an internship with the Town of Catawba Town Manager's office, where she helped with budget development. While Tiffany was born in Colorado Springs, she calls the foothills of North Carolina home. She is passionate about democracy and the Bill of Rights. Tiffany joined the League of Women Voters Catawba Valley in 2020. She serves as its President and Membership Committee Chair. 
Director Rebecca Tatman Klase of Greensboro first became interested in government after college, when she worked at the Centers for Disease Control and Prevention. Leaving CDC for an advanced degree, she earned her Ph.D. in public policy from West Virginia University and began her career as a university faculty member and administrator from which she retired. As a 20-year member of LWV Piedmont Triad, she previously served on their board, focusing on advocacy work for voting rights and citizen participation, especially among young adults. She has served as a Membership and Leadership Development coach for LWVNC. Rebecca has served the past two years as a member of the LWVNC Board and coordinated the statewide League Action Teams. 
Director Velvet Scoggin of Jacksonville is in her 16th year as a math teacher and has held leadership positions/roles as a MTSS Interventionist, Beginning Teacher Coordinator, School Improvement Team member. She has coached basketball, football, and cheer. Most importantly, Velvet has had the opportunity to implement and coordinate the opening of a new school, alternative behavior bridge program, and after-school tutoring program all designed to improve student achievement and promote positive social behaviors. She is also a member of the North Carolina Association for Educators. Velvet ran for County Commissioner in Onslow County and started a MAL Unit for the League of Women Voters of Onslow County to improve voters' education and democracy. As president, Velvet and members partner with other nonprofits and organizations to coordinate voter registration drives, food drives, and anything to bring hope to Onslow communities. As a board member of the Onslow County Outreach, she supports the local homeless shelter, soup kitchen, and health facilities. She is a proud member of Zeta Phi Beta Sorority. She has served as the assistant treasurer and is current community coordinator of the Onslow County NAACP, board member of the NC Parent Teacher Advisory Committee for Diversity, Inclusion & Equality and Bylaws' Committee, and member of Juneteenth Committee of Georgetown Renaissance Association. 
 "We have important challenges in North Carolina, and we're ready to address them," says Rubin. "The League has been protecting voters' rights for more than 100 years, and we are faced with the challenge of helping North Carolinians overcome obstacles to voting now. Women power the majority of the households in our state, and we will harness that energy to overcome barriers to voting so that citizens can make their voices heard." 
View photos of officers and directors. The board can be reached at board [at] lwvnc.org. 
The League of Women Voters of North Carolina is a grassroots nonpartisan organization dedicated to encouraging citizens' participation in government and understanding of important issues through education and advocacy. The League of Women Voters neither endorses nor opposes political parties or candidates for office.