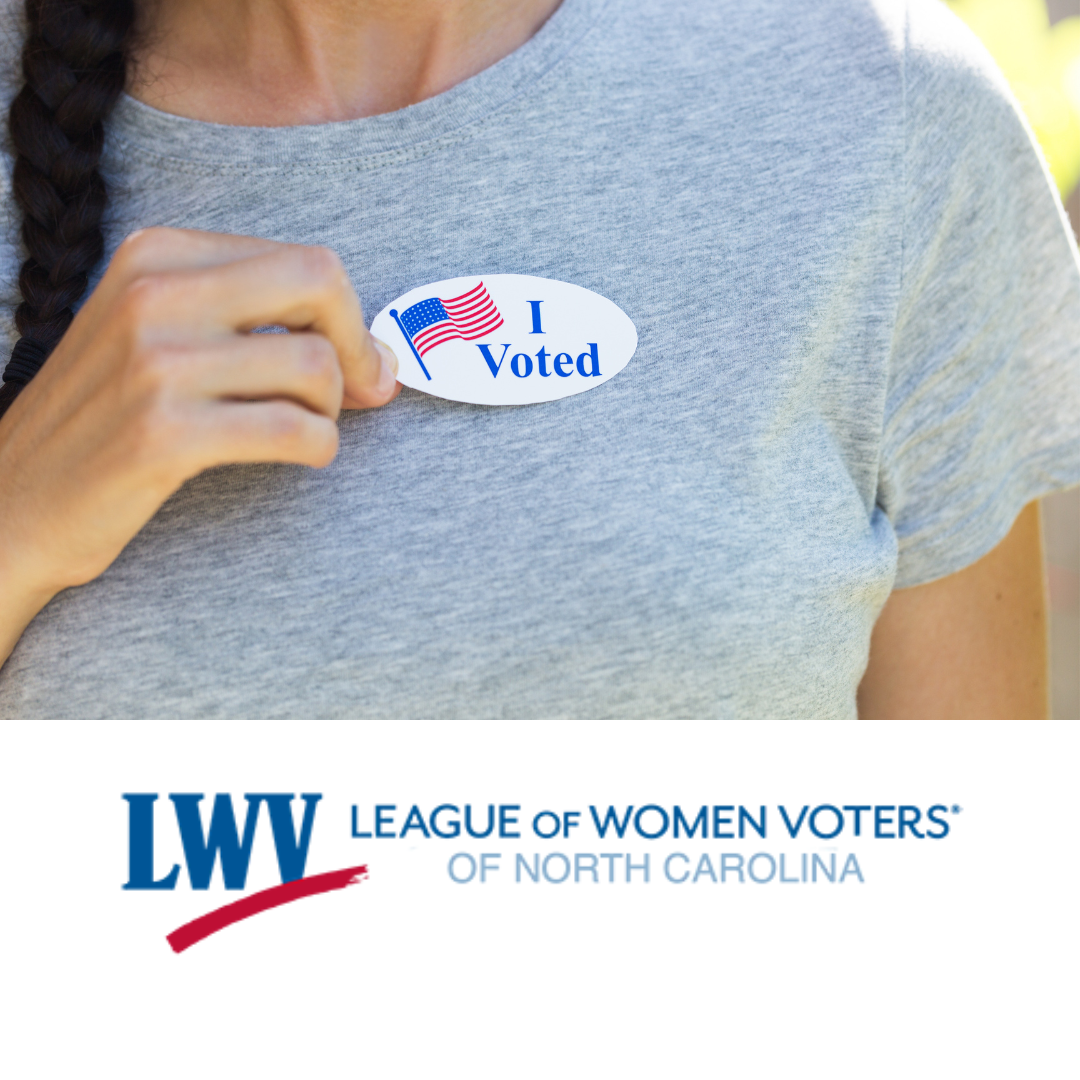 LWVNC joined Democracy North Carolina and the North Carolina Black Alliance, with representation by Southern Coalition for Social Justice, to file a lawsuit regarding aspects of NC Senate Bill 747 that creates youth voting restrictions. The lawsuit is described in the news release below. Your LWVNC Board will keep you informed as this suit proceeds and as we continue to fight for voters' rights in North Carolina! 

DURHAM, N.C., Oct 18, 2023 — North Carolina's Senate Bill 747 (SB747) is an unconstitutional burden on the fundamental right to vote of young North Carolinians, according to a new lawsuit filed in federal court today by the League of Women Voters of North Carolina, Democracy North Carolina, and North Carolina Black Alliance, with representation by Southern Coalition for Social Justice.

"Same-day registration is critical to ensure access to the ballot, especially for North Carolina's younger voters," said Jennifer Rubin, president of the League of Women Voters of North Carolina. "SB747 is a direct assault on the voters who use same-day registration the most, and the League is committed to dismantling any such barriers to the ballot."

Plaintiffs say SB747 impedes the right of young people to register to vote and have their ballot counted when using same-day registration, a form of voting disproportionately used by this growing bloc within North Carolina's electorate. "Young voters have the right and the desire to participate fully in our democracy," said Celina Stewart, chief counsel and senior director of advocacy and litigation at the League of Women Voters of the US. "Laws like SB747 throttle young voters' opportunities, threatening their fundamental right to make their voices heard."

SB747 places the fate of a ballot cast using same-day registration on whether a single piece of mail reaches that voter. If that piece of mail goes undelivered — by accident, negligence, or otherwise — the voter's ballot is thrown out and their registration is canceled, with no notice provided and no opportunity for the voter to be heard. The North Carolina General Assembly enacted SB747 despite well-documented difficulties for young voters, including college students, to have their mail delivered reliably.

"Whether your vote gets counted should not be a random game of chance," said Jeff Loperfido, Chief Counsel for Voting Rights at Southern Coalition for Social Justice. "But that's precisely what this new same-day registration scheme does, by taking control out of the hands of the voter and leaving the fate of their ballot to the whims of election officials and the US Postal Service. The people of North Carolina deserve better."

SB747, an omnibus election law that offered only "a solution in search of problems," passed into law on Tuesday, Oct. 10, after both chambers of the North Carolina General Assembly overrode Governor Cooper's veto. This bill continues a disturbing trend seen across the South where legislators cite repeatedly disproved claims of fraud and impropriety around the 2020 election to justify further restrictions on the right to vote. These changes come at a severe cost to North Carolina voters, making voting harder, less certain, and less accessible. Today's filing challenges some of the most onerous provisions of SB747.

"Unfortunately, we have witnessed a consistent effort from our state's leadership to create countless barriers for our voters, more specifically naming one of our most vulnerable populations, young adult voters," said Jovita Lee, Program Director for North Carolina Black Alliance. "We have a duty to ensure that our young voters, especially those that attend our Historically Black Colleges and Universities that have been historically impacted by legislation such as this, can equitably access the ballot box and fully participate in our democratic process, per their given right."

"None of the generic state interests offered to support SB747... justifies the extreme and specifically targeted burdens and barriers that SB747 intentionally imposes on these voters," the filing states. "Lifting these restrictions is crucial to safeguarding the rights of young and student voters across North Carolina and ensuring a functioning and inclusive democracy for all."

"There is indeed a long and troubling history in North Carolina of lawmakers making blatant attempts to restrict voting access for young voters. Yet those leading such efforts forget what has always followed — a series of champions challenging such suppression across the political spectrum," said Cheryl Carter, co-Executive Director, Democracy NC. "Make no mistake: the right to vote should not be a partisan issue. We are proud to join this fight with our fellow plaintiffs in support of young voters who already face enough barriers as it is, whether through lack of Early Voting sites, photo ID requirements, or absentee ballot rejections. These are our state and nation's newest voters. If certain lawmakers won't protect their constitutional right to free and easy access to the ballot box, we will."

Several other lawsuits against SB747 were filed after the General Assembly overrode Governor Roy Cooper's veto. It is likely these cases will be consolidated and proceed in tandem over the coming months.

Municipal elections will occur this November in several North Carolina communities. Voters can find the information they need for what's on their ballot, voting options, requirements for voting, and more at VOTE411.