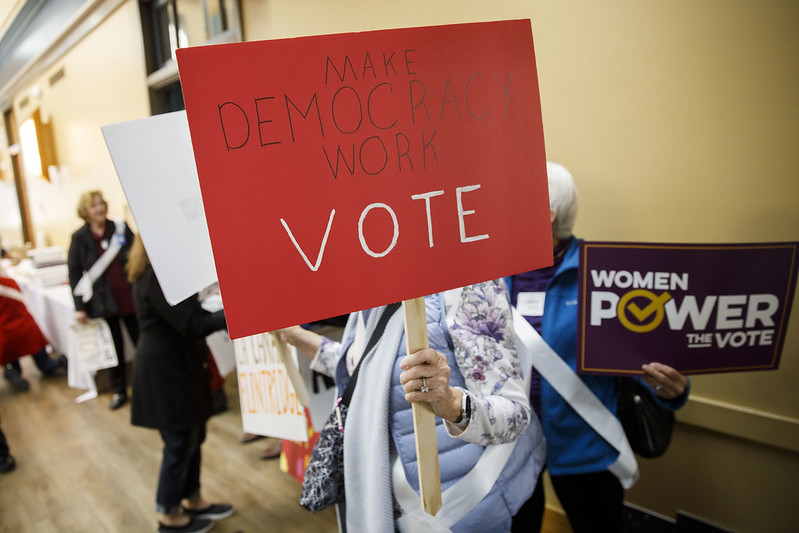 Note: LWVNC sent the following email to our subscribers on Aug. 15. Not on our email list? Sign up here. 
All, 
 
Here's some important information for you to disseminate as the national conversation turns to voting –and voting safely and securely – this fall.  
Don't panic. Panic leads to decreased voter confidence, which is a form of voter suppression. Don't support efforts to lower voter turnout. The message to voters is the same as it's been since April – vote early and vote safely! 
In North Carolina, we have several voting options and safety measures in place. Make a plan to vote and then help people in your network do the same. Voters can early vote from Oct. 15-31. They can request an absentee ballot and mail it back (or use a service like UPS to send it back). Or they can hand deliver it to their county board of elections. 
Send in your absentee ballot request now. If you already sent it in, call your county board of elections (phone numbers can be found here) to confirm that it has been received. Ballots will not be mailed to voters until Sept. 4 at the earliest. 
Voters should vote when they are ready. We want voters to educate themselves about the candidates. We want them to vote the full ticket. That being said, the sooner a ballot is returned, the safer it will be. 
Share VOTE411.org and the FAQs page on our website – if folks have questions, they will find the answers here! 
Remember LWVNC's new website address is: https://my.lwv.org/north-carolina-state

All League members need to take responsibility for sharing this information/messaging. Post to your social media. Email/call/text friends and relatives. Share with folks in your neighborhoods, houses of worship, and clubs. Be influencers in your communities. Be a go-to source for rational, helpful information on voting. 

Remember what's at the core of our mission: Empowering Voters. Defending Democracy.
 
Thank you! 

Marian Lewin
Vice President 
League of Women Voters of North Carolina 

P.S. LWVNC would love to be able to promote this voting information through radio and print media – but we need resources. Help us raise funds so we can get the word out to all voters!