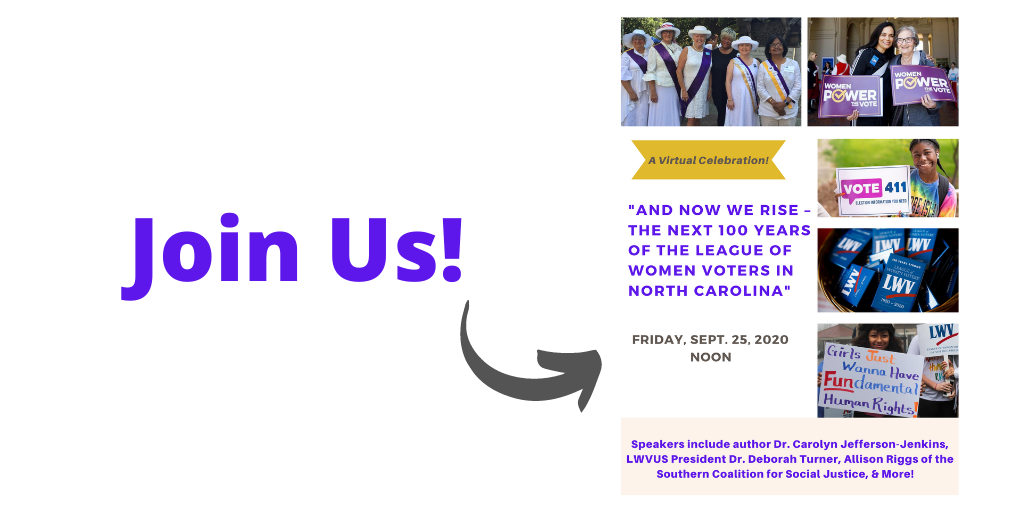 The League of Women Voters of North Carolina is marking 100 years of work toward securing voting rights of North Carolina citizens.
On Sept. 25, through our Zoom event "And Now We Rise: The Next 100 Years of the League of Women Voters in North Carolina," we took a few moments to celebrate this milestone, to reflect on both our successes and failures, and to imagine a more just and inclusive society for both our nation and our organization. In this program, national and local leaders inspired and re-energized us for the important work ahead.
Speakers included: author, educator, activist, advocate, and historian Dr. Carolyn Jefferson-Jenkins, whose talk was entitled "To Finish the Fight"; LWVUS President Dr. Deborah Turner; Allison Riggs of the Southern Coalition for Social Justice; and more! We also discussed how to use and support the League's award-winning voter assistance tool, VOTE411.org, which ensures access to non-partisan information essential to the democratic process.
Relevant links: 
Donate to help spread the word about VOTE411