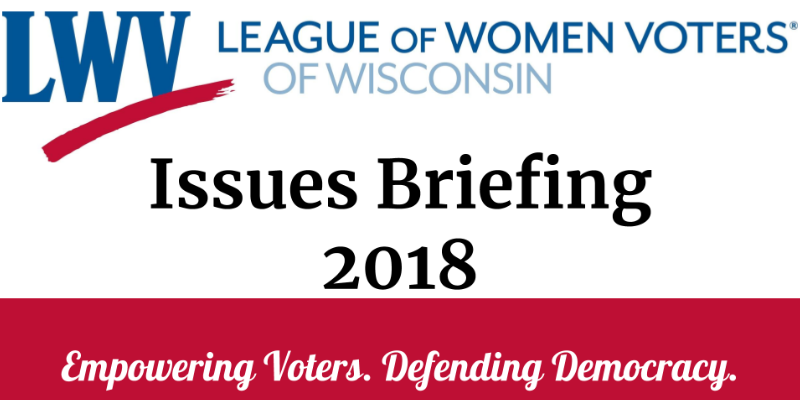 Nearly 150 League members and friends attended LWVWI's State Issues Briefing on November 10 at Holy Wisdom Monastery. Here are some resources from the day of presentations:
State Office Announcement Slides
Post-election Review of Election Security in Wisconsin presented by Meagan Wolfe, Interim Administrator, Wisconsin Elections Commission
Wisconsin Election Commission Website
City of Racine Water Diversion Challenge presentation by Jodi Habush Sinykin, Attorney, Midwest Environmental Advocates
Wisconsin Civics Games
LWVWI is co-sponsoring an exciting civic education project being launched by the Wisconsin Newspaper Association (WNA) Foundation called The Civic Games. The games will follow a "quiz bowl" style format in several regions across the state and cumulate in a state final in Madison in February 2019. The hope is to continue the competition annually to increase civic education and knowledge throughout Wisconsin. 

If you're interested in this project, you can learn more and also encourage your local high schools and teachers to participate in the games by sharing information about the Civics Games from their website.
Luke Fuzard describes the dire condition of America's democracy because of the decline of civics education in this Rotary presentation from July 2018. (Thanks to Wisconsin Eye for the archived video.)
Panel: United by Love - United Against Hate: Building an Inclusive Community moderated by Artists and Activists Kelly Parks Snider and Rachael Griffin.
We Are Many - United Against Hate (Masood Akhtar)
Women Against Hate United By Love Art Exhibit (Kelly Parks Snider)
Panel: The Role of Media in Our Democracy moderated by Joy Cardin, Former Host, Wisconsin Public Radio.
Be A Wisconsin Voter Video Series
The League of Women Voters of Wisconsin talked with real Wisconsin voters - in their own spaces - and asked them to tell their stories of why they're a Wisconsin voter. The Be A Wisconsin Voter video series showcases their unique stories about why they vote and why the right to vote is important.