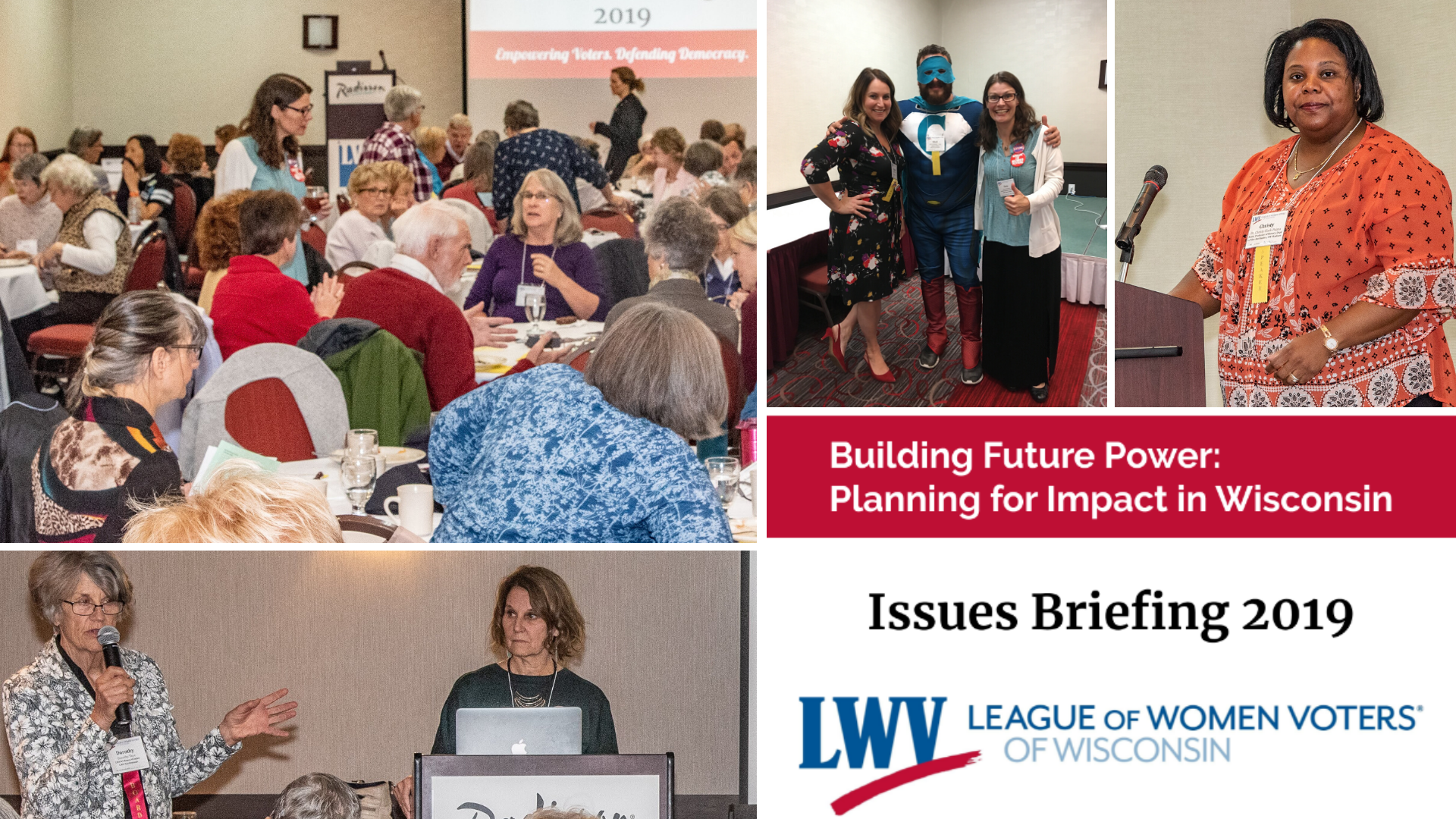 One-hundred and seventy League members and friends gathered at LWVWI's annual Issues Briefing on October 19 at the Radisson Hotel Madison. Between informative presentations and breakout sessions, guests had the opportunity to network with each other and the State League board and staff. They also took in the striking visual arts exhibit, Tar Sands Storytelling Project, sponsored by the Clark County Cultural Art Center, The Sierra Club-Wisconsin, and the Wisconsin Youth Network.
Below is an overview of the day along with some materials and resources from the presenters and speakers. Special thanks to all who contributed to the valuable information shared and learned at this year's event.
General
Black on the Wisconsin Frontier, 1725-1866, Dr. Christy Clark-Pujara, UW-Madison, Associate Professor of History
A Year of Attacks on Immigrants, Aissa Olivarez, Community Immigration Law Center, Immigration Attorney
View the Immigration presentation slides
Light at the End of the Tunnel: Progress on the Equal Rights Amendment, Janette Dean, Environmental Policy and Human Rights Advocate & Organizer
ERA Overview and Update handout 
Passage in Congress, NV Ratification & Next Steps (clickable presentation)
"Legalize Equality" 30-min. Short Version: Hard-Copy DVD ($5 by mail) for free personal & group viewings anywhere (technical problems at event prohibited viewing at Issues Briefing)
"Equal Means Equal 2-hour" Original Version: DVD for personal viewing (buy or rent to watch online) & Paid Permission for large home parties or group screenings.
Click "Get Involved" to help Virginia ratify & track House Joint Resolution 38 to lift the deadline
LWV People Powered Fair Maps 50 State Redistricting Campaign, Virginia Kase, League of Women Voters of the US, CEO