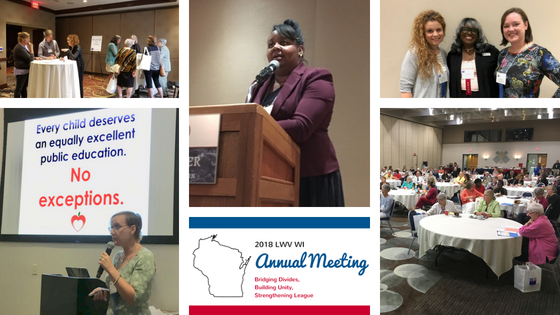 Thanks to all who attended the 2018 Annual Meeting in Oshkosh. With more than 140 attendees and all 20 Leagues represented, we really got a sense of the breadth and depth of the League activity in Wisconsin. Attendees were also informed by our guest speakers on a range of issues including racial justice, public education, redistricting, and prison reform. It was amazing how many times the Friday evening's keynote speaker Tracey Robertson's presentation was brought up again in conversations on Saturday. That speaks volumes to the power of her words.

Thank you to the remarkable members of the LWV of Winnebago County for hosting the event with great attentiveness and creativity and raising over $1,000 in silent auction and wine sales for the LWV WI Centennial Fund! To those of you who served as panelists in the breakout sessions, thank you for being leaders in your respective initiatives and for stepping up to share best practices to the benefit of all. To League members who staffed and visited the League Exchange rooms, thank you for making our ideas sharing experiment a positive new experience. And to all League members who attended, discussed ideas and challenges, met new friends, asked great questions, listened, and thoughtfully contributed, thank you for being there. Gathering together strengthens our unity as a statewide League. While we increasingly interact with each other online, it's wonderful to personally connect through League values and our work. 
Presentations & Resources
The following lectures, programs and presentations set the stage for League interaction and conversation across both days of the Annual Meeting.
Keynote Speaker: Tracey Robertson, Executive Director and Co-Founder of Fit Oshkosh
Tracey Robertson delivered a keynote speech that detailed her experiences with systematic racism after she moved to Oshkosh from Chicago. In her remarks, she challenged the League to consider how we manage the impact and intent of our interactions with persons of color in our everyday lives and our League work, and asked us to be catalysts for change and leaders in conversations about racial justice and equity. Robertson shared how improving racial literacy is the key to everyone's future regardless of political affiliation or racial identity. The power of her words was evident by the many conversations on this topic that continued long after her presentation concluded.
Malkasian Speaker: Dr. David Canon, Professor of Political Science, University of Wisconsin
This year's Zabelle Malkasian lecture featured Dr. David Canon, who discussed gerrymandering and its effects on American politics. Gerrymandering in redistricting has been perfected by political parties over time to gain consistent electoral advantages and to sway the political composition of legislatures both at the national level and within the Wisconsin legislature. Dr. Canon addressed the arguments surrounding Gill v. Whitford (then still pending) and the data that was presented before the Supreme Court to argue why partisan gerrymandering is anti-democratic and unconstitutional. While the case has been sent back to the lower court for further review, Dr. Canon's presentation helped put into perspective the need for further public education and League action. 
View Dr. Cannon's presentation.
The Importance of Civic Education
Panel moderator Joyce McCollum, Greater Green Bay, led a panel discussion about the importance of civic education. Panelists Margy Davey, Winnebago County, Susan Kohout, Door County and Leigh Ann Tidey, Milwaukee County shared their Leagues' work to encourage civil discourse and discussed the need for civics education in our public schools and beyond. They reminded attendees that the fundamental values of respect, understanding and compassion can go a long way to foster civil discourse and encourage constructive community dialogue.
View The Oshkosh Civility Project presentation materials.
Community Alliances Initiative
Leagues piloting the Enhancing Diversity through Community Alliances initiative reported on their progress and fielded questions. Beloit stated that its board approved project goals and action steps and that a "walk-the-talk" social mapping exercise was underway to identify businesses owned by people of color in their community. Sheboygan County is collaborating with Support Our Urban Projects (SOUP) to sponsor forums and plans to meet with Voces de las Fronteras leaders and representatives from local churches with Latinx and Hmong membership. Milwaukee County formed a Latinx Voter Outreach Team entitled "Comité por el Voto Latino" (CVL), which has already identified barriers to Latinx voter registration, adopted a goals statement to register more Latinx voters with measures to track success, and received media attention. They meet regularly where Latinx people congregate and have developed press releases and worked with a Latina graphic designer to create a logo and posters for CVL. Materials developed by all three Leagues will soon be available online in the LWVWI HUB resources library.
View the Community Alliances presentation information.
A League Look at Equity and Poverty in Wisconsin
Ethel Himmel, Janesville, moderated a panel discussion about the League's work on economic equity and poverty. Panelists Janice Penn, Ashland/Bayfield Counties, Penny Robinson and Nancy Jones, Appleton, Connie Kanitz, Winnebago County and Cindy Diemer, Ripon Area shared how their Leagues have engaged citizens and other community groups to raise awareness about the impact poverty has on our communities, particularly our children. Their Leagues joined the End Child Poverty Campaign and have called on representatives to commit to cut child poverty in half in Wisconsin in the next ten years. They asked audience members to sign and endorse the campaign's goal online at endchildpovertywi.org.
Incarceration Reform: The Unique Challenges of Women's Incarceration
Ex-incarcerated People Organizing (EXPO) President, Melissa Ludin, and EXPO Organizer, Sara Ferber, presented their work on incarceration reform to League members. They shared their stories about how they became involved with EXPO and how their own experiences within the criminal justice system inform their work. Like many incarcerated women, the need to survive, a history of abuse, and poverty provided a pathway to criminal behavior. After serving their sentences, Ludin and Ferber are now working to end mass incarceration, eliminate all forms of structural discrimination against formerly incarcerated people, and restore formerly incarcerated people to full participation in our communities. They discussed many issues that people from the prison system face and said that the League can make a difference by welcoming formerly incarcerated people back to their communities and advocating for reform of the criminal justice system.
A Public Education for All
The co-presentation by Heather DuBois Bourenane, Executive Director of Wisconsin Public Education Network (WPEN) and Kim Kaukl, Executive Director of Wisconsin Rural School Alliance (WiRSA) made the important point that rural and urban and suburban schools need to work together to get the funding necessary for all Wisconsin schools to succeed. Kaukl pointed out the challenges unique to rural schools, which make up 70 percent of Wisconsin school districts, including increased transportation costs, lack of broadband Internet, and since Act 10, difficulty with attracting and keeping teaching and other staff. DuBois Bourenane stressed the disparity in spending limits and facilities among Wisconsin public schools. She added that the voucher system in Wisconsin, which costs $274 million, is a huge drain on school funding and likened it to taxpayers supporting two separate school systems. She pointed to the advocacy work of WPEN to support quality education for every child. 
View Kim Kaukl's presentation information.
View Heather DuBois Bourenane's presentation information.