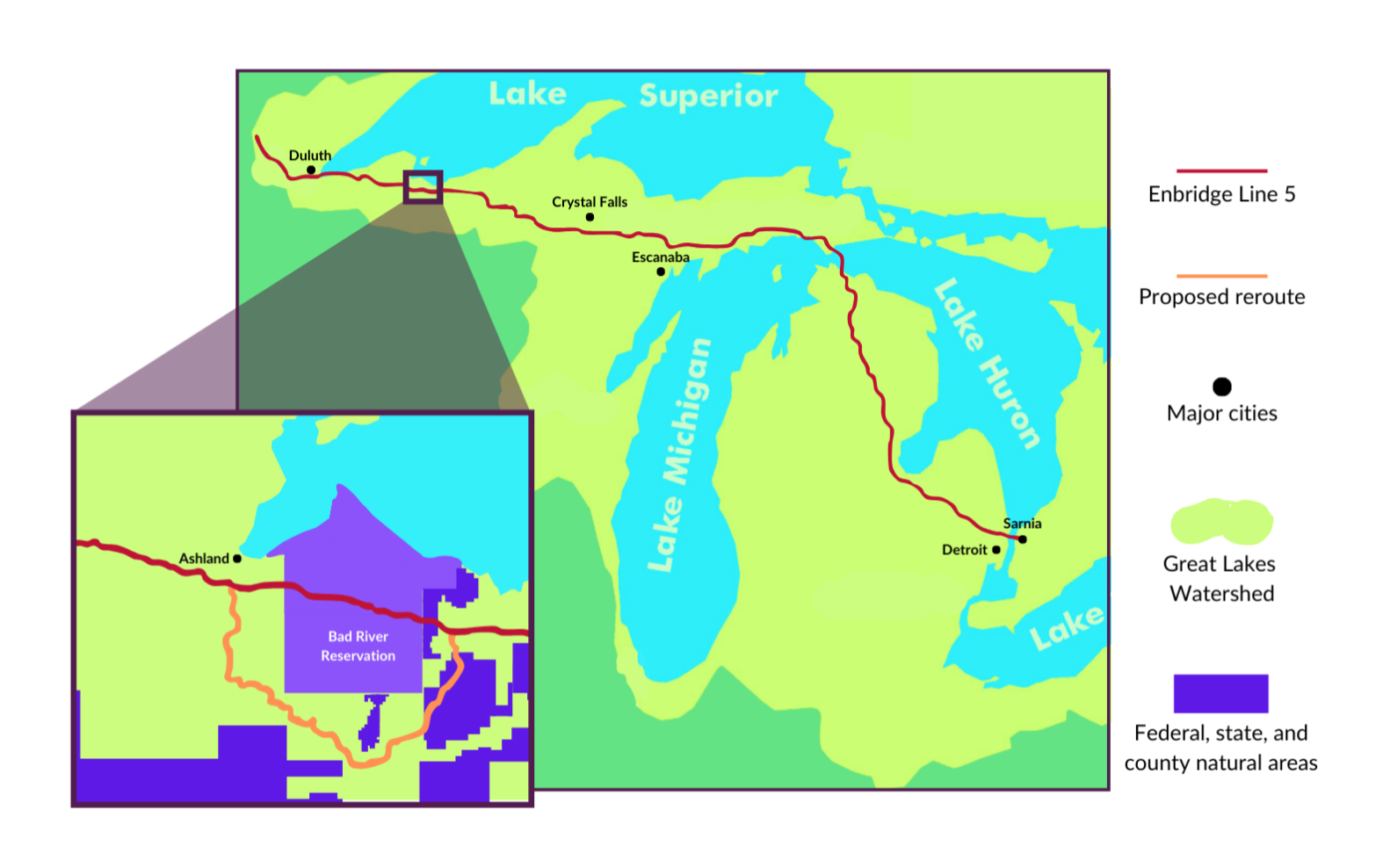 Enbridge Line 5 is a 645-mile-long pipeline between Superior, WI and Sarnia, Ontario. It crosses over 400 ecologically sensitive wetlands and waterways in the Great Lakes watershed, which supplies the drinking water for 48 million people. Enbridge has promoted its pipeline as a reliable, safe, and affordable method of delivering energy.
Enbridge is seeking state and federal permits to reroute and expand a portion of Line 5, moving it from the Reservation lands of the Bad River Band of Lake Superior Chippewa Indians to just outside of Reservation borders but entirely within the Bad River Watershed, threatening more natural resources than the existing line by moving the risk upstream. The 42-mile expansion would cross nearly 200 waterways, including 6 rivers and 40 named streams, 5 of which are designated Outstanding Resource Waters under the federal Clean Water Act. Copper Falls State Park and its iconic waterfalls would be surrounded on 3 sides by the pipeline.
These pipelines impact an incredibly large swath of Wisconsin waterways and drinking water supply. With that in mind,
what is Enbridge not sharing with you?
What Enbridge Is Not Sharing:
Built in 1953, Line 5 is 70 years old-- 31 years older than the oil pipeline that broke and contaminated the Kalamazoo River a decade ago. It was not built to withstand the pressures, volume (over 22 million gallons/day), and corrosive materials it carries today. 
The Pipeline Hazardous Materials Safety Admin reports over 30 spills along Line 5 since 1968, releasing over 1 million gallons of product. Only one of these spills was detected by Enbridge's advanced remote pipeline detection system. It took Enbridge over 17 hours to respond to the Kalamazoo Spill.
The vast majority (90-95%) of what flows through Line 5 returns to Canada for export. Less than 5% of the oil and gas
liquids in Line 5 are siphoned off near Escanaba, MI.
Both the Bad River Band of Lake Superior Tribe of Chippewa and the State of Michigan are suing Enbridge for violating
easement agreements.
On behalf of all 35 federally recognized Tribes in the U.S. Great Lakes states and 39 Anishinabek First Nations in Canada, the Midwest Alliance of Sovereign Tribes and Anishinabek Nation issued directives to shut down Line 5.
(https://environmentaldefence.ca/wp-content/uploads/2023/10/Line-5-Amicus...)
During construction of Line 3 in Minnesota, Enbridge punctured 4 aquifers, spilling millions of gallons of groundwater onto the surface. Construction contaminated wetlands and streams with drilling fluid. Enbridge did not report these incidents, rather they were reported by private citizens monitoring water quality.
If Line 5 breaches an aquifer, the contamination will likely impact local wells and drinking water, as well as wetlands, streams, and wild rice beds.
LWVWI Actions
The LWVWI has voiced concerns to the Wis Dept. of Natural Resources, Army Corps of Engineers, National Forest Service, and the Council on Environmental Quality, raising issues of water quality, other valued resources, social justice, safety, and more.
The LWV-Ashland & Bayfield Counties passed a resolution opposing Line 5 and supporting the Bad River Band's demand to remove the pipeline.
For More Information
LWV-Ashland &Bayfield Counties: https://www.lwvabcwi.org/issues-advocacy
Retire Line 5: https://retireline5.org/line5wisconsin
Oil and Water Don't Mix: https://www.oilandwaterdontmix.org/about
Press release about Line 3 violation: https://www.duluthnewstribune.com/business/energy-and-mining/7198598-DNR-
fines-Enbridge-3.3-million-for-breaching-aquifer-during-Line-3-
construction?utm_medium=email&utm_source=newsletter&utm_campaign=breaking&utm_content=500001
For Love of Water: https://forloveofwater.org/line5/
Line 5 Issues within the Bad River Reservation: http://www.badriver-nsn.gov/wp-
content/uploads/2020/02/202002_NRD_EnbridgeLine5_Brochure.pdf
Court Orders Shutdown of Line 5: www.earthjustice.org/brief/2023/wisconsin-tribe-seeks-emergency-shutdown...
imperiled-line-5-pipeline
Sierra club link to petition and analysis of public comments: https://www.sierraclub.org/line-5
Petitions to Gov. Evers: https://ganawendannibi.org/tell-the-evers-administration-reject-line-5/
League to which this content belongs:
Wisconsin