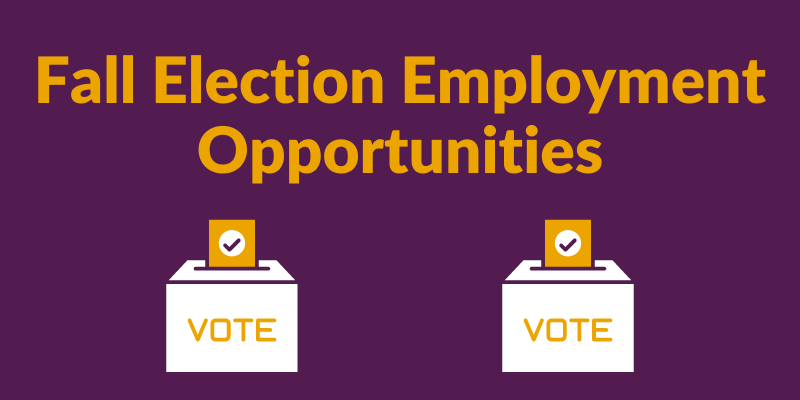 For the Fall Elections, The League of Women Voters of Dane County and Wisconsin Voices are seeking individuals to help secure safe and fair elections. See the position descriptions below for more information.
Election Clerks - Various Municipalities
Various municipalities in Wisconsin are in need of Election Clerks for the upcoming elections. Click on the position for more information.
ACLU-Wisconsin - Rights for All Regional Organizer
Job Context
This position is a temporary position through December 1 that reports to the Rights For All Voting Campaign Coordinator.  Although based in one of six cities, it might require travel around the region, contingent upon safety of travel outlined by health professionals.
Responsibilities
Ensure that the interests and vision of impacted populations and the broader community shape the ACLU's work on criminal justice reform, especially as it pertains to voting rights;
Identify, recruit, train, support and organize a cohort of volunteers to assist people to exercise their voting rights;
Distribute voting rights information to community members and coalitions;
Educate local voters on obstacles within our current electoral climate and the solutions for navigating them;
Collect and share information pertaining to volunteers engaging in voting rights with the ACLU of Wisconsin's Smart Justice Campaign;
Recruit and help train volunteers to attend and participate in Smart Justice Campaign activities;
Demonstrate a commitment to diversity using a personal approach that values all individuals and respects differences in regards to race, ethnicity, age, gender identity and expression, sexual orientation, religion, ability and socio-economic circumstance, record of arrest or conviction;
Commitment to work collaboratively and respectfully toward resolving obstacles and/or conflicts;
Be able to conduct community outreach like phone-banking, 1:1 partnership meetings, speaking with elected officials, (virtual) town halls, data management, attending coalition meetings;
Communicate regularly with and report to the Rights For All Campaign Coordinator.
Job Requirements
A successful candidate must have and maintain the following qualifications:
Commitment to the mission and goals of the ACLU and a passion for criminal justice issues, commitment to reform, and an understanding of the racialized nature of the criminal justice system are absolutely essential;
A car and a valid Wisconsin driver's license and the ability to undertake travel within Wisconsin, as well as the availability to work some evenings and weekends;
Understanding of the voting rights of people impacted by the criminal legal system;
Flexible team player who understands opportunities and challenges of building and working in large, diverse coalitions, and sharing responsibilities and credit;
A demonstrated ability to manage details and follow through without direct supervision;
Proven ability to effectively communicate in writing and through public presentation;
Personal enthusiasm, optimism and a sense of humor;
Personal experience being incarcerated or in other ways entangled with the criminal justice system is preferred.
Compensation:
Compensation is $18 per hour, approximately five hours per week.  
To Apply: 
The position will remain open until filled.  Please submit a resume, a brief cover letter describing your interest in the organizer position, and three references to: jobs [at] aclu-wi.org
The ACLU of Wisconsin is an equal opportunity employer. We value a diverse workforce and an inclusive culture. We encourage applications from all qualified individuals without regard to arrest or conviction, race, color, religion, gender, gender identity or expression, sexual orientation, age, national origin, marital status, citizenship, disability or veteran status.
League of Women Voters of Dane County - Voter Helpline Manager
The Dane County League of Women Voters is seeking an outgoing and organized individual to manage our non-partisan voter helpline leading up to the November 2020 election. The role requires strong customer service skills, a demonstrated ability to use online tools, and the capacity and willingness  to research complex WI voting procedures.

Hours per week: 20 – 40 (could be job-shared). Pay: $28 – 32 hourly, depending on experience/skills.
Schedule: to be negotiated at time of hire, but must be scheduled between 9 a.m. and 8 p.m. Sun – Thurs and 9 a.m. and 5 p.m. Fri-Sat
Limited Term: ends no later than Nov. 11, 2020
Location: virtual
Provided: cell phone and plan (only for work responsibilities)
General Responsibilities
Manage voter contact process for Dane County Voter Helpline. 
Answer questions directly when appropriate; assign contacts to volunteers per guidelines; ensure that all contacts receive a response.
Occasionally provide in-person, socially distanced assistance to voters.
Conduct voter outreach via phone.
Essential Daily Duties
Review all voter contacts to the Helpline received but not yet closed.
Assure that voter contacts have received at least a preliminary response within 24 hours.
Assure that all contacts have been resolved within established timeframe.
Respond to voter contacts that come in during the shift, and close or assign to a volunteer as appropriate.
Assist volunteers as necessary with questions about Helpline technology.
Assist volunteers responding to complex questions by referring to more experienced volunteers and/or researching answers, using the most efficient strategy.
Conduct additional telephone voter outreach as directed by League supervisor when all contacts have been appropriately resolved or assigned.
Required Knowledge, Skills and Abilities
General familiarity with WI voting procedures and requirements.
Ability to determine answers to complex questions about voting procedures in WI and develop an understanding of the processes by researching online and/or consulting with experienced volunteers, using the most efficient strategy.
Demonstrated ability to learn to use online tools (Fresh Desk, email, Google Suite).
Strong customer service skills.
Strong verbal and written communication skills.
Willingness to work with volunteers with varying levels of technological skill.
Commitment to the non-partisan and diversity, equity and inclusion policies of the League of Women Voters while performing all job duties.
Demonstrated ability to work independently and problem solve.
Demonstrated ability to address issues and concerns in a timely manner.
Strong organizational skills Preferred Knowledge, Skills and Abilities.
Professional experience in a non-profit, government, or customer service position.
College degree.
Experience helping WI voters register, vote absentee, and/or learn about voter ID.
Spanish or Hmong fluency would be a plus
LWV Dane County is an Equal Opportuntiy and Affirmative Action Employer
Wisconsin Voices – Poll Worker Recruitment Coordinator
Wisconsin Voices is seeking a full-time Poll Worker Recruitment Coordinator to lead a statewide coalition of organizations working to ensure there are sufficient poll workers for the November 2020 election to staff all planned polling places. This is a contract position
through December 31.

The ideal candidate will have a proven ability to manage projects, produce projects, and prioritize projects with respectful and clear communication. They will be committed to elevating clear best practices and tangible steps to take for impact in areas of civic engagement Wisconsin Voices anchors. This position is an opportunity to engage with national organizations, current Wisconsin Voices partners, and very grassroots groups.
About Wisconsin Voices
Wisconsin Voices is a fast-paced nonprofit organization whose mission is to unify a dynamic network of progressive nonprofits in Wisconsin around achieving shared goals to build a better democracy. We build our partners' capacity, amplify their impact, nurture new leadership, promote racial equity, champion transparent policies, and foster civic engagement so that everyone has an equal voice. We serve as a liaison with national organizations in democracy and civic engagement. We work closely with policymakers, advocates, and activists around the state to promote the census, voter registration, voter turnout, and building organizational capacity to while doing this work. We developed a customized voter registration and follow up chase turnout technology (Vote WI app and website) that allows third party groups and people help new and unlikely voters get ready to vote.
Job Responsibilities
The Poll Worker Recruitment Coordinator, who is based in Milwaukee and reports to the Outreach Director, will work to ensure the 20 priority localities reach their goal for poll workers who show up for November election and that those poll workers have enough PPE and adequate safety procedures in place to protect them. To reach that goal will require the following:
Create a list of poll workers required by each locality and share list with coalition partners.
Update list weekly with current number of committed poll workers.
Determine best method for creating consolidated list of individuals who have volunteered in order to avoid duplication.
Coordinate recruitment efforts with Wisconsin and national organizations participating in this effort, including Democratic Party, labor unions, 501(c)(4) organizations and municipal clerk-led efforts.
Coordinate digital communications campaign to recruit poll workers.
Participate in bi-weekly meetings/conference calls with Wisconsin Voting Rights Coalition to report on progress.
Identify challenges and possible solutions to those challenges.
Work with WI Voices communications team to create internal plan for recruitment
Engagement with jurisdictions to ensure we're tracking needs and also working to ensure that volunteers coming in from national partners are placed appropriately
Qualifications
We're seeking candidates who excel inbuilding a collaborative team, are results-oriented, and have strong project management skills. You should have:
A track record of developing and maintaining strong working relationships with and among a diverse group of stakeholders
A demonstrated commitment to meeting a high bar and a history of getting things done even in the face of obstacles
Experience managing multiple projects and ability to oversee make tangible next steps with and for a wide range of partners
Deep analysis and value of racial equity.
Knowledge of census and voter registration policy issues and prior experience in a C3 table environment are both plusses but are not requirements.
Compensation will be $6,000 per month. This is a contract position that does not include benefits. This position goes through December of 2020.
How to Apply
Send resumes and a cover letter and 2 references to admin [at] wisconsinvoices.org. Please title the email: "Poll Worker Recruitment Coordinator application." Accepting ongoing applications but preferably before August 10, 2020.
Wisconsin Voting Rights Coalition - Communications Manager 
The Wisconsin Voting Rights Coalition (WVRC) is seeking a Communications Manager who is passionate about ensuring access to the ballot and has the written and verbal communications skills to elevate that work effectively. This person will work with a diverse statewide coalition to build a communications program focused on voting rights and voter access. They must be strong collaborators, strong writers, and thrive in a fluid, fast-paced environment. The position is housed at Wisconsin Conservation Voices and will work through the end of March 2021.
Who We Are
Wisconsin Voting Rights Coalition
The Wisconsin Voting Rights Coalition is composed of more than 22 partner organizations working on nonpartisan voter advocacy and voter education. The coalition advocates for municipal and state wide changes to reduce barriers to voting. The WVRC is led by staff at Wisconsin Conservation Voices and All Voting is Local.
Wisconsin Conservation Voices
Wisconsin Conservation Voices brings people together to protect the Wisconsin we love. We fight for safe, healthy communities and a healthy democracy by connecting conservation-minded citizens with the policy-making process through education, advocacy, public opinion research, and the implementation of voter participation techniques. Learn more at: conservationvoices.org.
What You'll Do
Work with coalition partners to develop communications strategies that achieve advocacy goals.
Create communications plans that incorporate traditional media relations tactics and digital communications tools for each public-facing campaign.
Attend coalition strategy meetings and communications working group discussions, and be available for rapid-response communications support as needed.
Create external communications materials including: press releases, op-eds, social media content, talking points, action alerts, letters of support, and other public-facing materials that deliver clear, consequential messages.
Create social campaigns on multiple platforms, which may include Twitter, Facebook, Instagram, Tik-Tok, Snapchat, or others, and monitor analytics for success.
Develop and disseminate social media content on all managed platforms.
Develop meaningful relationships with members of the media that produce high-quality news coverage.
Collaborate with colleagues to ensure successful interactions with local and state media.
Build consensus with partner groups on external messaging.
Offer rapid response as needed and quickly engage and mobilize supporters.
Maintain and update program website content.
Other duties as assigned.
Who You Are
We are looking for an individual who is creative, has strong writing skills, is detail oriented, and able to organize and manage many moving pieces in a dynamic and fluid environment. The right candidate for this job will have strong people skills and the ability to work well with diverse partner organizations. Successful candidates will also bring all or most of the following skills to the position:
Required
Organized with strong written and verbal communication skills
High level writing skills
Experience working with media
Creativity and demonstrated social media skills
Photoshop and InDesign experience
Ability to conduct research online or through traditional media
Experience managing a social media channel other than a personal account
Ability to track, adjust, and report digital metrics
Preferred
Experience with website content creation and design
Technical knowledge and ability to schedule paid content, create digital ads, and optimize posts for reach and frequency while managing budget
nterviewing experience
An understanding of voter engagement or advocacy
Video production skills and experience
Cultural Competence: We are looking for candidates who share our commitment to integrating racial justice and equity into the work we do and ensuring an inclusive organizational culture, and who have a familiarity with the complexity of issues and obstacles facing communities' of color participation in U.S. democracy.
Reports to: Wisconsin Conservation Voices Civic Engagement Director
Salary and Benefits: This is a temporary position through March 2021. Salary is 50,000-57,000 annual equivalent. Salary commensurate with experience. Strong benefits package, including health coverage, technology stipend, and paid time off. Due to COVID-19, this person must be able to work from home. It is possible they may work in an office later.
Our Commitment to Diversity and Inclusion
We understand the value of bringing together a team with different perspectives, educational backgrounds, and life experiences, and we prioritize diversity within our team. We encourage people from underrepresented backgrounds to apply.
To Apply
Resumes will be accepted until the position is filled; however, preference will be given to resumes received by August 12, 2020. Email your resume, cover letter, and three references to apply [at] conservationvoters.org with "Communications Manager" in the subject line. Writing samples are encouraged.
League to which this content belongs:
Wisconsin