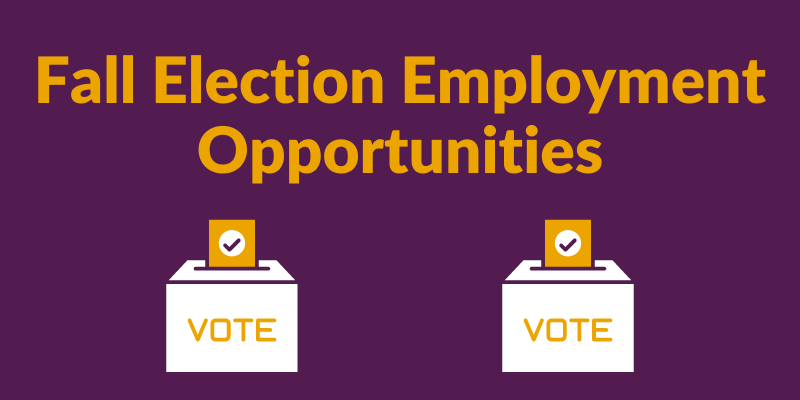 For the Fall Elections, many organizations in Wisconsin are seeking individuals to help secure safe and fair elections. See the position descriptions below for more information.
Milwaukee Safe and Healthy Voting Project - 
Milwaukee Elections Commission
The Milwaukee Election Commission is seeking a communications firm or firms to create and implement a comprehensive voter education and election worker recruitment campaign for the November 2020 Presidential Election. This effort will focus on appealing to a variety of communities within Milwaukee, including historically underrepresented voting communities. Additionally, part of the campaign will focus on the recruitment of new election workers, taking into consideration and communicating the unique job role during a pandemic, as well as the creation of professional training videos. If your firm does not have a specialty in communication with key demographics, we encourage you to partner with another firm in your application.
Contract Term
The anticipated contract term will be September 7, 2020 – December 31, 2020. In addition, the contract term will be based on the availability of grant funding being made available to the City of Milwaukee Election Commission.
2020 Project Timeline
Proposal release: Wednesday, August 19, 2020
Proposal due date: Friday, September 3, 2020; 4:00 p.m.
Dates for Selection Committee Meetings: September 4-6, 2020
Notification of awards: Monday, September 7, 2020
Tentative date to begin work: September 7, 2020
Completion date for the entire project: November 4, 2020
Final invoice submission due date: December 1, 2020
Funding Available
$250,000
Questions
Questions about the requirements of the application should be directed to cwooda [at] milwaukee.gov no later than August 28, 2020 at 4:00pm CST.
The full reqest for proposal can be viewed here.
Election Clerks - Various Municipalities
Various municipalities in Wisconsin are in need of Election Clerks for the upcoming elections. Click on the position for more information.
ACLU-Wisconsin - Rights for All Regional Organizer
Job Context
This position is a temporary position through December 1 that reports to the Rights For All Voting Campaign Coordinator.  Although based in one of six cities, it might require travel around the region, contingent upon safety of travel outlined by health professionals.
Responsibilities
Ensure that the interests and vision of impacted populations and the broader community shape the ACLU's work on criminal justice reform, especially as it pertains to voting rights;
Identify, recruit, train, support and organize a cohort of volunteers to assist people to exercise their voting rights;
Distribute voting rights information to community members and coalitions;
Educate local voters on obstacles within our current electoral climate and the solutions for navigating them;
Collect and share information pertaining to volunteers engaging in voting rights with the ACLU of Wisconsin's Smart Justice Campaign;
Recruit and help train volunteers to attend and participate in Smart Justice Campaign activities;
Demonstrate a commitment to diversity using a personal approach that values all individuals and respects differences in regards to race, ethnicity, age, gender identity and expression, sexual orientation, religion, ability and socio-economic circumstance, record of arrest or conviction;
Commitment to work collaboratively and respectfully toward resolving obstacles and/or conflicts;
Be able to conduct community outreach like phone-banking, 1:1 partnership meetings, speaking with elected officials, (virtual) town halls, data management, attending coalition meetings;
Communicate regularly with and report to the Rights For All Campaign Coordinator.
Job Requirements
A successful candidate must have and maintain the following qualifications:
Commitment to the mission and goals of the ACLU and a passion for criminal justice issues, commitment to reform, and an understanding of the racialized nature of the criminal justice system are absolutely essential;
A car and a valid Wisconsin driver's license and the ability to undertake travel within Wisconsin, as well as the availability to work some evenings and weekends;
Understanding of the voting rights of people impacted by the criminal legal system;
Flexible team player who understands opportunities and challenges of building and working in large, diverse coalitions, and sharing responsibilities and credit;
A demonstrated ability to manage details and follow through without direct supervision;
Proven ability to effectively communicate in writing and through public presentation;
Personal enthusiasm, optimism and a sense of humor;
Personal experience being incarcerated or in other ways entangled with the criminal justice system is preferred.
Compensation:
Compensation is $18 per hour, approximately five hours per week.  
To Apply: 
The position will remain open until filled.  Please submit a resume, a brief cover letter describing your interest in the organizer position, and three references to: jobs [at] aclu-wi.org
The ACLU of Wisconsin is an equal opportunity employer. We value a diverse workforce and an inclusive culture. We encourage applications from all qualified individuals without regard to arrest or conviction, race, color, religion, gender, gender identity or expression, sexual orientation, age, national origin, marital status, citizenship, disability or veteran status.
League to which this content belongs:
Wisconsin