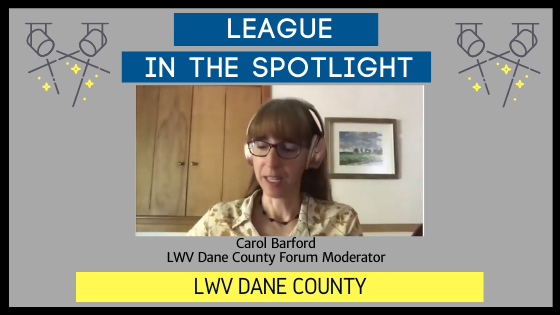 LWV Dane County Pivots to Virtual Forums
LWV Dane County stepped into new territory when it launched a series of virtual issues forums after the Covid-19 pandemic forced the cancellation of their April Climate Crisis Series program: "Revenge of the Marshes—Preserving the Wetlands that Protect Us." Intent on offering critical flood information, especially as the City of Madison sought community support to update its stormwater ordinance, LWV Dane County made a quick pivot. It invited the guest speakers to participate on a Zoom platform, creating two virtual forums that could be uploaded and shared via YouTube. 

League members already knew how to schedule, host and record virtual meetings, and for this series, members learned how to upload charts and images the speakers would need. They scheduled practice sessions so the moderator and speakers could work out the details of the content as well as the syncing of charts and speech. The resulting virtual forums on Zoom, "Revenge of the Marshes," part I and part II, were a success! They learned how to incorporate moderators, speakers, slides, Q&A and even conversational formats and want to help other Leagues do the same.

LWV Dane County will continue to produce virtual forums for as long as the pandemic persists and hopes to begin producing live-streamed, rather than pre-recorded, virtual forums in the near future. Undaunted, they continue their climate crisis education campaign under a new banner, "Issues on Deck". For more information and guidance on how your League can organize a virtual forum, contact Georgiana Hernandez at program [at] lwvdanecounty.org.

LWVWI Can Help Expand Your Virtual Audience
Like LWV Dane County, many other local Leagues have moved to virtual platforms for meetings, forums and other types of programming. The state office can help expand your audience by posting your program notices and programs on the LWVWI website. Submit your requests to LWVWI Communications Manager Morgan Grunow at mgrunow [at] lwvwi.org.
League to which this content belongs:
Wisconsin