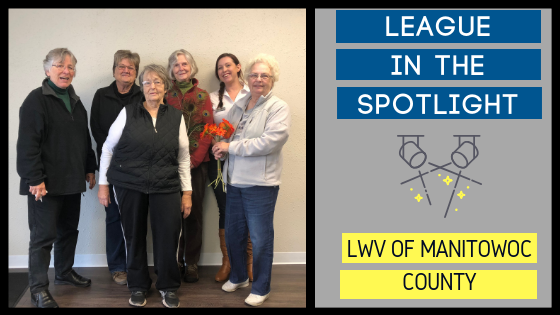 LWV MANITOWOC COUNTY celebrated the release of their local study, Addiction and Poverty in Manitowoc County 2018, last October. Nonprofit and county agencies eagerly used the report's valuable data in grant-writing, which prompted a second printing. The study grew from a plan to add "a few pages" on addiction to their Health Subcommittee's report, into a comprehensive, 135-page accounting of this impactful issue. "As interviews began and the number of media and research articles grew, we began to realize the ramifications of the scope of our topic outline which followed the lifespan model: 1) The science of addiction had to be defined as well as measures of poverty;  2) their combined impact across the age groups had to be researched; and, 3) the specific strengths and gaps in services to those age groups had to be reported from as many local agencies as possible. It turned out to be a bigger task than expected, but we are pleased the report is making an important contribution to our county's renewal efforts," says study committee and League board member Jean Biegun. For local Leagues considering a local study, LWV Manitowoc County offers the following sage advice:
Be ready to be surprised by the unexpected scope of your research topic.

Be ready to go deep and wide to gather all relevant information.

Be ready to use all the unique skill sets of your committee members.

Be ready to bond warmly with the great, dedicated, supportive members of your committee.

Be ready to meet, appreciate and support the committed social service organizations in your area that serve the needs of residents.

Be ready to continue gathering information after your study is done in order to monitor and report progress around the policies adopted by your League chapter.
Further Reading:
The sections below are taken from the November-December 2018 Newsletter of LWV Manitowoc County.
POVERTY AND ADDICTION IN MANITOWOC COUNTY
After 3 years of study, the League of Women Voters of Manitowoc County published its report on Addiction and Poverty. Thank You to the committee who gathered the information using national, state, and local statistics and conducting countless interviews of people from local organizations, and agencies who serve people impacted by addiction. League members who contributed to this report included Darlene Wellner and Nancy Lodl who interviewed people involved in health care and wrote some of the early information. Thank you to Nancy Slattery and Cecilia Held for researching other topics, interviewing people and writing sections of the report. Ginny Finnel worked on editing and adding graphics to the report. Theresa Collins allowed us to use technology at her business location, Beacon Consulting, which made editing easier. Everyone on the committee spent from June to October editing and refining the content and updating information. Theresa writes grants for non-profit organizations and her editing skills helped make the report look more professional. Jean Biegun used her talent as a writer to compile all the information into a compelling narrative of what drugs can do to the brain and the resources that Manitowoc County has to help people struggling with addiction. She attended meetings in the county and surrounding areas to gather additional information about the issues surrounding addiction and the emotional impact this disease has on individuals and families. Her passion carried the committee far beyond our expectations.
The West Foundation provided our league with funds to print 100 copies to be given to the agencies and organizations that provided the committee with information. Two league members contributed the funds for 50 more copies. The publication has been distributed to league members who wanted a print copy. A copy has been sent to the LWV Wisconsin and the LWV of the United States. Others in the community have indicated they are using the information as they develop grants for their agencies. Kate and John Miller have expressed an interest in funding any additional printings.
Being a part of this committee has been an extraordinary experience for all of us. We had this opportunity to educate our citizens about an issue impacting thousands of people in our county. As we worked together, we became committed to this project and to each other. This is what often happens as league members plan programs for the community or do local studies.
This report can be found on the website of the League of Women Voters of Manitowoc County under the topic "Past and Present Studies." In February, our league members will discuss the report and determine a plan of action.
Julie Grinde, Chair
We want to thank Julie and her committee for writing and issuing the report on Poverty and Addiction in Manitowoc County. It has been three years in the making. We had over 35 people in attendance at the October 25th unveiling of the report. To date, it has been well received by all who have received and read it. It has become so popular that a second printing of this report is in progress. I truly appreciated the response that I received from those members who offered to read the report on line. The report is on our website at lwvmanitowoc.org, click on present and past studies. The report is there.
Cathy Cole, Newsletter Editor
League to which this content belongs:
Wisconsin