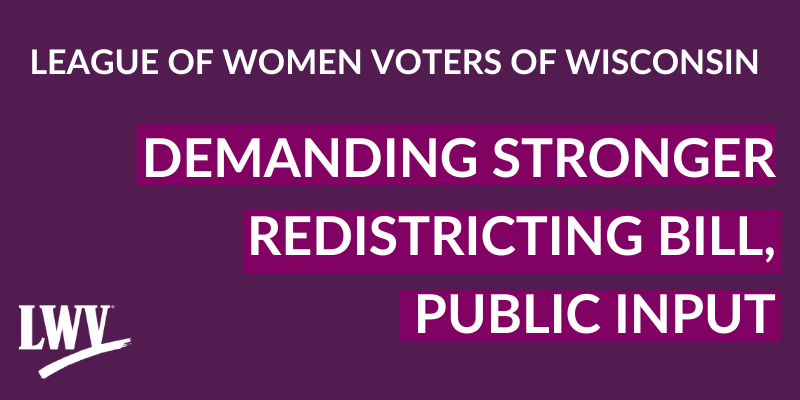 Date of Release or Mention:
Friday, September 15, 2023
League of Women Voters of Wisconsin Demanding Stronger Redistricting Bill, Public Input
MADISON – Last night, state Legislators hastily pushed a redistricting bill through the assembly. The League of Women Voters of Wisconsin continues to demand a better bill and firmly opposes elected officials' blatant disregard of public input. Debra Cronmiller, LWVWI executive director, issued the following statement in response. 
"Like we said earlier this week, Wisconsinites deserve a nonpartisan map-drawing process that fits our state's needs. 
"The fact is that this is not a sound solution for Wisconsin's maps. Our heavily gerrymandered Legislature passed a redistricting bill along party lines without public input. How could that ever result in fair maps?  
"Legislators are being disingenuous to the public about the nature of this bill. 
"Our maps affect everything – healthcare, clean water, childcare, voting rights, every issue. Because, when we have gerrymandered maps, Legislators in the majority party draw themselves into power. They don't need to listen to voters. 
"Government is intended to be for the people and by the people. We need a bill built on cooperation, transparency, nonpartisanship, and public input. This bill fully disregards those values. 
"Wisconsin voters deserve better – and they deserve a voice in the process. Whether or not Legislators give the people a public hearing on the bill, we will make our voice heard."
###
The League of Women Voters of Wisconsin is a nonpartisan political organization that advocates for informed and active participation in government. There are 20 local Leagues throughout Wisconsin. More information at lwvwi.org.
League to which this content belongs:
Wisconsin