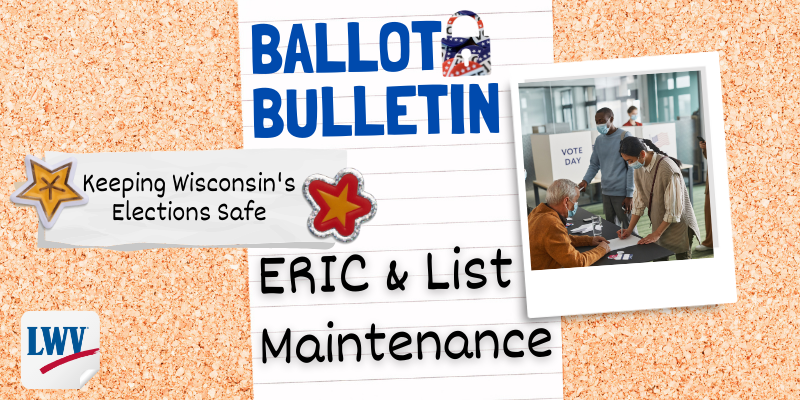 ERIC & Voter List Maintenance
This summer, LWVWI is launching a series highlighting various election security topics so we can all be better informed about how we keep elections fair, accessible, and secure. This week we are highlighting (1) regular maintenance of the voter registration rolls and (2) Wisconsin's involvement with the Electronic Registration Information Center (aka ERIC). 
Why is regular maintenance of the voter registration rolls important?
Most simply put, it keeps everything correct and current! The main goal of regular list maintenance is to ensure that ineligible individuals aren't registered and eligible individuals aren't excluded.
Diligent and regular maintenance is key and, luckily, we have systems in place to keep our voter rolls neat and tidy! Maintenance keeps voter fraud in check by deactivating ineligible registrations, combining duplicate records on the rolls, and flagging instances of voter impersonation or individuals voting multiple times. Thus, the integrity of our elections is safeguarded. 
In addition, voter roll maintenance lets our hardworking election administrators plan and conduct elections more efficiently. It reduces the chances of administrative errors and complications during the voting process, such as long lines or delays in verifying voter eligibility. Efficient administration is crucial for smooth elections with minimal obstacles to voters. 
What is the Electronic Registration Information Center (ERIC), and why does Wisconsin participate?
The Electronic Registration Information Center, known more commonly as ERIC, is a nonpartisan organization created by state election officials. Its goals are to improve the accuracy of voter registration data and assist voters in becoming registered at their current addresses.
ERIC's data comes from its member states, the Social Security Administration, and USPS. State statute requires Wisconsin to be a member of ERIC, and membership helps our election officials keep records up to date.
Through ERIC, the Wisconsin Elections Commission (WEC) receives data on registered voters who have moved or died, as well as potential duplicates. The WEC shares this information with the relevant local election officials so they can use it to update voter registration records in their jurisdiction. Additionally, as a member of ERIC, the WEC receives lists of potentially eligible but unregistered voters in Wisconsin so they can send those citizens postcards with registration information. 
Data from ERIC also allows states to cross-check voter fraud to see if any voters cast ballots in more than one state. 
How is the League involved in monitoring these processes? 
Regular voter registration list maintenance keeps our elections secure and accurate. However, when it goes too far, eligible voters can be wrongfully purged from the voter file. That is why the League pays close attention to the processes our election officials use to maintain the accuracy of our lists. As part of this work, the League tracks Wisconsin's involvement in ERIC, and we have seen the benefits to our state. 
We are prepared to and have advocated as needed when changes are necessary to protect voters' rights.