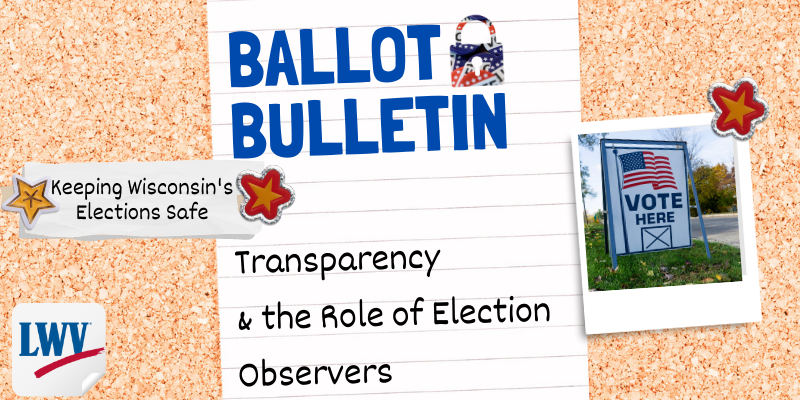 Ballot Bulletin: Transparency and the Role of Election Observers
This summer LWVWI is launching an educational series highlighting various election security topics so we are all better informed about the processes in place to make our elections fair, accessible, and secure. This week we are highlighting the importance of election observers and transparency. 
We know our elections are free and fair here in Wisconsin because so much of the process is transparent — it's open, visible, and subject to scrutiny. Observing parts of the electoral process keeps election officials accountable and fosters public trust. 
It reduces concerns about fraud and manipulation while promoting confidence in the accuracy and fairness of the results.
Nonpartisan election observers (like League observers!) play an important role in identifying best practices that can be shared across polling places, correcting issues, and discouraging misconduct. Their presence helps ensure that election officials follow procedures and dissuade bad actors from attempting to interfere with the voting process. 
They're another layer of oversight, enhancing the reliability of the process.
With training, these observers identify irregularities, errors, or violations of election laws. Their impartial perspective allows them to raise concerns and report issues. Early detection of problems enables quick action to correct issues - protecting voters and election security.