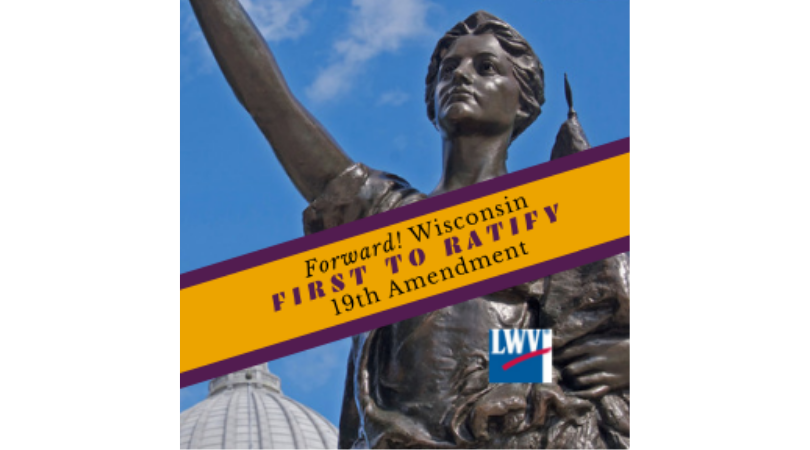 Location
Capitol Square
Madison
Wisconsin
53703
Wisconsin US
Sunday, June 23, 2019 - 12:00pm
Please join LWV Wisconsin and LWV Dane County as we mark the 100th anniversary of Wisconsin's ratification of the 19th Amendment on Sunday, June 23rd, at the Forward statue on the Capitol Square (State Street corner) for a program highlighting the importance of Wisconsin's first-to-ratify vote, how it gave hope to many women but not to all.
The program will feature Joy Cardin, former Wisconsin Public Radio host, State Representatives Joan Ballweg and Melissa Sargent, and first person interpreter Rose Stephenson portraying Ripon-born suffragist and founder of the League of Women Voters, Carrie Chapman Catt, among other presenters. 
We encourage everyone who attends the event to wear white in honor of the suffragists, who fought tirelessly for over 70 years for women's right to vote.
Join in the rallying cry, Forward! Wisconsin -  FIRST TO RATIFY - 19th Amendment, in remembrance of the day Wisconsin promptly acted to grant national suffrage to women.
Tags: