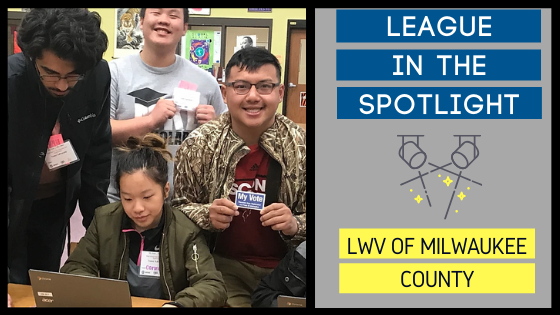 More to Add to Virtual High School Voter Registration
We have an exciting follow up to our last League in the Spotlight feature, which discussed how Leagues are exploring the use of virtual platforms for high school voter registration information. Just last week, LWV MILWAUKEE COUNTY completed a DIY - do it yourself - online voter registration and GOTV tutorial for high school students, Voting 2020 - Why Does it Matter? The project was led by Milwaukee County High School Voter Education and Registration Program team leader, Leigh Ann Tidey, who said, "This program is designed to help students register on their own. It addresses the complications of student registration that we have encountered over the years. It includes individualized instructions depending on student age and availability of POR with links to the informational resources we use when we do high school registrations.  A pledge to vote form is included to track student registrations."  View the Resources document here.
LWV Milwaukee County is willing to share their online program and would like to hear back from you with ideas for improvement. While the program is specific for high school registration in Wisconsin, it includes a few materials such as city DMV locations and local election information for Milwaukee and Waukesha Counties, but these can be replaced with local information. Chapters wishing to use the program can obtain a copy and substitute links to local information.  Thank you LWV Milwaukee County for providing an excellent prototype. 
And, as a reminder, LWVUS has created resources for both high school and regular voter registration campaigns during COVID-19.  To learn more, view these materials:  Virtual High School Voter Registration Lesson and Voter Registration Activities During COVID-19.
League to which this content belongs:
Wisconsin