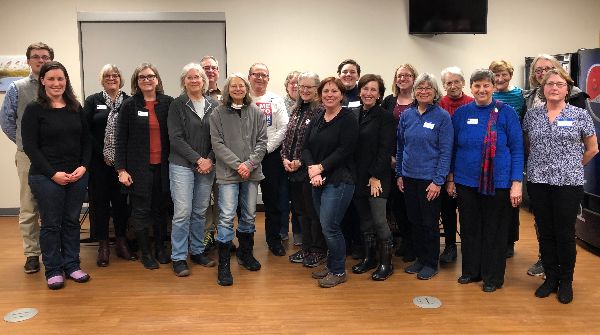 League recognized just three years ago shows deep community roots
LWV SHEBOYGAN COUNTY, recognized just 3 years ago, learned it has deep community roots! LWV Sheboygan was one of 23 local Leagues formed after the Wisconsin LWV organized on February 20, 1920. In early 1924, they organized Get Out the Vote efforts. "A speaker has appeared before nearly every church society in the city, speaking to the women on the importance of voting … Speakers also appeared before the Parent-Teacher Association. In the schools, each child in the upper grades wrote letters to their parents, reminding them to go to the polls." (Forward, April 1924, pg 7). In Fall of 1924, they held a "First Voters Birthday Party."  Read the toast they gave to first-time voters! And, on Armistice Day 1924, the League sponsored a speech by legendary suffrage leader Carrie Chapman Catt, promoted as "the world's greatest woman citizen." Read an account of her talk.
Today, the Sheboygan County League has established itself in high schools county-wide as a trusted resource for voter education. Voter Registration & Access Committee Co-Chair Kristin Casey-Booth stated, "It has taken a while to build that trust, but our professionalism and clear commitment to our nonpartisan mission has really impressed every school we have been to and all have invited us to return." They're producing voter PSA's on why small elections matter and to provide information on voter registration, photo ID, DMV access, and to publicize their voter registration computer kiosk in the local library. They also received a donation to print booklets for immigrants to help them better understand our legal system and clarify their rights. Check out their upcoming events calendar! 
It's not known when the early Sheboygan League disbanded but LWV Sheboygan County has picked up where they left off. In 1923, this was said about the young League, "It is nothing less than inspiring to the state League to see the work accomplished by the earnest women who are devoting so much of their time to have a League that functions actively" (Forward, April 1923, pgs 12-13). This praise rings true today of all Sheboygan County League members!
League to which this content belongs:
Wisconsin