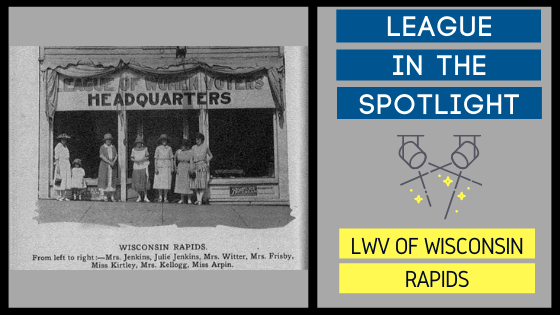 Expanding voter services - then and now
Almost 100 years ago, LWV WISCONSIN RAPIDS mobilized for action in advance of the 1922 fall elections by renting a storefront for one week for use as a voting information headquarters. They handed out literature on candidates and walked through sample ballots with new voters. "We were open from ten in the morning until five in the afternoon and our headquarters soon became most popular, not only with the women but the men as well."  They were proud to later report that out of a possible 1,300 women eligible to vote in the city that fall, 1,228 had voted.
Today, the Wisconsin Rapids Area League works with voter services in the same spirit of voter education as they did in 1922 but with much greater reach. They recently combined their Poverty Study and Voter Services committees for a special voter education project. Under the direction of Mary Dahm, League members are now working with 18 diverse community groups including people living in poverty, the Hmong community, special needs residents, seniors citizens, the adult literacy organization, the Ho-Chunk Nation, and the Family Center, which is a home for domestic abuse residents. They're also taking action on environmental issues, co-sponsoring a Groundwater Contamination in Central Wisconsin: Science and Solutions event on January 6, 2020. 
Next year, LWV Wisconsin Rapids Area will celebrate its known 50th Birthday so it was with great surprise that Gloria Kubisiak, 2020 celebrations chairperson, learned from Ellen Penwell in the state office that their League's history actually dates back to the early 1920s! Within one year of the founding of the Wisconsin League of Women Voters in 1920, twenty-three local Leagues had organized in communities across the state, from Superior to Kenosha.
League to which this content belongs:
Wisconsin