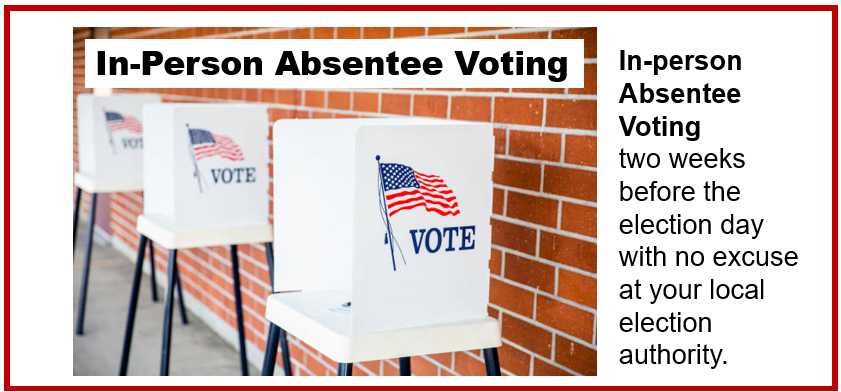 A new law allows no-excuse in-person absentee voting two weeks before each election for voters with an acceptable photo ID.
Local election authorities and the Secretary of State have absentee ballot request forms for voters who meet certain criteria. Voters with a disability can fill out a form to be place on a permanently disabled list to have that form mailed to them before each election. Mail the completed application to your local election authority before the deadline.
The deadline to request an absentee ballot to be mailed is two weeks before the election, but please leave more time.  Acceptable Excuses include:
Absence on Election Day from the jurisdiction of the election authority in which I am registered
Incapacity or confinement due to illness or physical disability, including caring for a person who is incapacitatedor confined due to illness or disability (does not require notary)
Election worker, first responder, healthcare worker or member of law enforcement (new)
Religious belief or practice
Incarceration while retaining all the necessary qualifications for voting
The form that requests the ballot does not need to be notarized.  (Note that the envelope for a ballot completed by a voter without a health excuse will need to be notarized.) Note the small print at the bottom of the request form tells you that if you have not voted in person in this election authority, you must include a copy of a valid ID with your request for an absentee ballot. 
To vote a regular ballot in Missouri, you must show a government-issued photo ID. If you do not have an acceptable form of identification, you may be able to vote a provisional ballot on Election Day. However, the signature on the provisional ballott envelope must match the signature on file with the election authority.