Health Care
HEALTH CARE LEAGUE ACTION TEAM
Education and advocacy related to health care reform.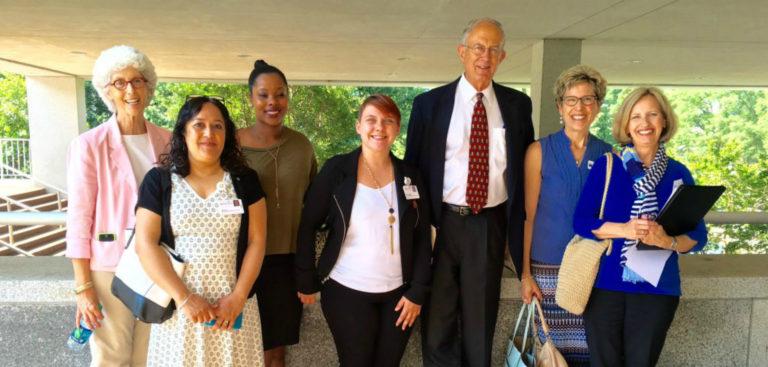 About Our Health Care Team
Grounded in the conviction that health care is a fundamental right, the work of LWV-NC HCLAT centers, first, on ensuring that every North Carolinian has access to quality healthcare, regardless of finances, age, zip code, gender identity, race, or any other condition of humanity.  We see acceptance of this core principle as the critical first step toward achieving universal health care coverage.
With the state's recent legislative elections, as well as our advocacy over the past five years, 2019 offers LWV-NC HCLAT a unique opportunity to expand Medicaid to those in the coverage gap and, thereby, to take a giant step towards that ultimate vision. Both independent studies and the experience of other, similar states confirm the health, financial, economic, and societal benefits of expansion, in both short- and long-term timelines.  With our coalition partners, we are firmly committed to the idea that the well-being of our state demands Medicaid expansion now.
Vision, Mission, and Goal Statements
Following the lead of LWV-US, the vision of LWV-NC HCLAT is to achieve universal health care by helping create a system of affordable coverage for all.
Our mission is to work within our state to establish the fundamental principle of health care as a right for all and not just a privilege for some.
By taking maximum advantage of recent legislative elections, our goal in 2019 is to work with others in the state to expand Medicaid so that, regardless of life circumstances, all North Carolinians have access to quality healthcare.
We Invite You to Take Action with Us:
About Our Health Care Goals
We strive to make Affordable Health Care Coverage available to All North Carolinians by:
preserving the ACA (and its Marketplace) nationwide
closing the health insurance gap in NC
Passed in 2010, the ACA reformed many important aspects of the private health insurance market- most notably protecting patients with pre-existing conditions.  In addition, it provided a marketplace for Americans without employer-provided insurance to secure affordable coverage and for subsidies that reduced premium and copay costs.  These subsidies are based on a sliding income scale starting at 100% of the Federal Poverty Level (FPL**).  And finally, the ACA extended Medicaid coverage to those earning less than 138% of the FPL and provided for federal funding to be given to the states in order to pay the costs of this expanded Medicaid population.
However, in 2012 the Supreme Court ruled that states could not be mandated to expand their Medicaid programs.  As a result, a health care coverage gap was created in states like NC that chose not to expand Medicaid.  Why is it called a gap?  Because in NC a non-elderly adult with children has to make less than 44% FPL to qualify for Medicaid but would have to make more than 100% FPL to qualify for subsidized ACA insurance.  Therefore, these 300,000-500,000 North Carolinians still lack access to affordable health care.  Most are the working poor.  Their employers don't offer benefits. They are self-employed or they work several part-time jobs and don't qualify for benefits at any of their jobs.
The Health Care League Action Team strive to make affordable health care coverage available to all North Carolinians.  We support legislation that can receive bipartisan approval of both chambers of the NC General Assembly and the Governor.
** Federal Poverty Level according to HealthCare.gov: In 2017, 100% FPL for an individual was $12,060 and for a family of four was $24,600.  44% FPL for a family of four was $10,824.
View this short 
presentation
 to learn more.
We believe that expanding Health Care Coverage is also Imperative to solving the Opioid Crisis
View this 
printable opioid trifold to learn more.
Additional Presentations and Resources
Summary of Trump Administration Attempts to Sabotage the ACA
In 2018, access to affordable health care continued to be under threat nationwide. The US Congress debated whether to repeal and replace the ACA and the President's Administration implemented strategies to sabotage the ACA and the ACA Marketplace.
Health Care NC – Advocating for Health Coverage Legislation in NC
Understanding the Opioid Epidemic and Impacts in North Carolina
2018 Health Care League Action Team Plan
Overview of the Healthcare Industry: Challenges and Opportunities
Learn What We Need To Do To Fix the ACA
Better Understanding Medicaid's Role in Health Care
Health Care Updates and Advocacy Plans
Understanding AHCA vs. ACA