Voting FAQs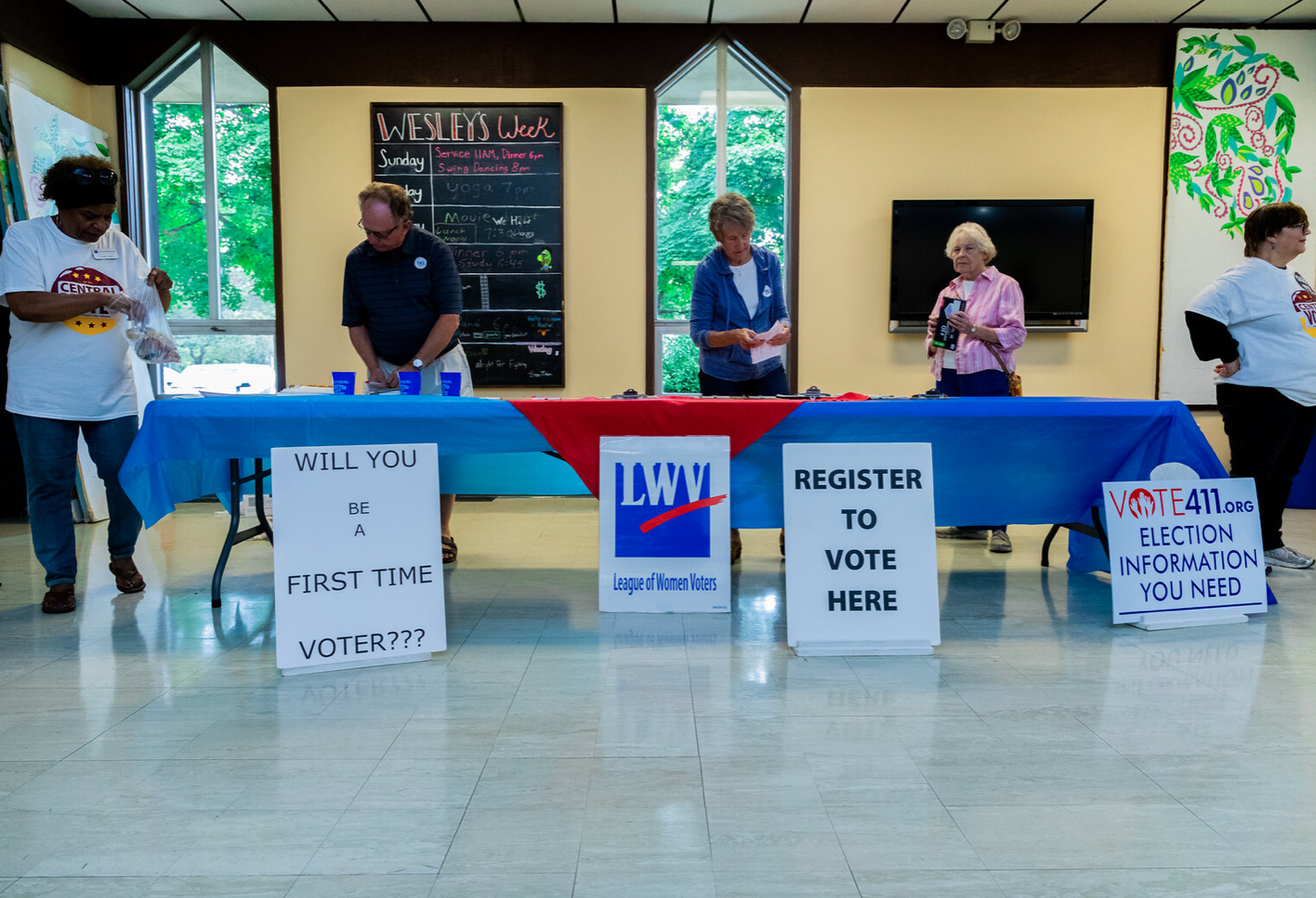 Empowering Voters.
The League of Women Voters is a respected and known source for accurate and nonpartisan voting information. Nationwide, the League engages millions of voters each year, ensuring Americans have the tools they need to participate in elections that determine our future. 
We host events and programs to educate voters about candidates, as well as distribute educational materials about elections. We encourage you to use VOTE411.org, a non-partisan digital platform that provides critical voting information. You can use VOTE411.org to register to vote, find your polling place, learn about the candidates and more. 
In the wake of Covid-19, many North Carolinians are concerned about how they will vote safely in 2020. Our state has no-excuse absentee voting by mail – keep reading to learn more about the process. Apply for your absentee ballot here. Note that the U.S. Postal Service will likely become overwhelmed, as it is anticipated that 40% or more of the electorate will be voting by mail – don't wait until the last minute. Apply for your ballot early, and send it back in a timely manner. We also encourage early voting – expect shorter lines on those days. 
VIDEOS
On our YouTube channel, check out LWVNC's series of videos about how to vote safely in NC this fall: 
Video 1: How to Make a Voting Plan and Vote Safely in NC This Fall 
Video 2: How to Vote by Absentee Ballot in NC
Video 3: How Your NC Absentee Ballot Is Processed and Counted
Video 4: How NC Handles Election Security Issues 
Below, you will find some Frequently Asked Questions about voting in North Carolina. Please create a plan to vote in every election – make your voice heard!
REGISTERING TO VOTE
ONLINE VOTER SERVICES
Is it true that I can register to vote online?

Yes. The State Board of Elections and NCDMV now offer certain online voter registration services for existing DMV customers. 

I

f you are a DMV customer with a N.C. driver's license or DMV-issued ID, you may now register to vote or change certain parts of your registration 

online. 



 

What parts of my registration can be changed online? 

Existing DMV customers may register to vote, update their voter registration address, or update their party affiliation.

 They may not change their name.



 

Is this only to be used in conjunction with other DMV services? No. This is a standalone service that does not require the user to complete a DMV transaction (such as duplicate or license renewal) at the same time.
How much do these online services cost? There is no fee

 for online voter registration services. 
VOTER IDENTIFICATION (NO PHOTO ID REQUIRED)
Do I need to show my voter registration card in order to vote? No, the voter registration card that you received in the mail contains useful information, but you are not required to have it. The same information on your card is also online. Use the NC Board of Elections voter lookup tool to see your voting information. Go to the NC Board of Elections for more information about Voter ID.
POLLING PLACES 
Where is my election day polling place? Use the NC Board of Elections voter lookup tool to locate your voting information which includes your election day polling place.

Can I vote at any of the early voting locations? Yes, one-stop voting allows registered voters to vote at any one-stop absentee voting site in the county. Use this tool to find an early voting location. 


ABSENTEE MAIL-IN BALLOTS

Can I vote using an absentee ballot even if I'm not "absent" from the area on election day? Yes, any registered voter may use a mail-in absentee ballot. Be mindful of the deadlines for requesting and submitting an absentee ballot.


How do I get an absentee-by-mail ballot? The Absentee Ballot Request Form is available on the NC State Board of Elections website. This form must be printed, completed by the voter or near-relative, signed, and delivered by mail (USPS, FedEx, DHL, or UPS) or in person to your local county board of elections. As of July 13, 2020, it may also be emailed or faxed to the voter's county board of elections office. If you do not have access to a computer, you can call your county board of election office to request the form. On Sept. 1, the NCSBE.gov website added an easy-to-use online portal to request your absentee-by-mail ballot. Request forms delivered by the deadline will be considered timely. To ensure that county boards of elections are able to promptly process voters' absentee requests, it is strongly recommended that forms be submitted directly to the appropriate county board of elections office.

When can I request an absentee-by-mail ballot? Now through 5pm on Tuesday, October 27, 2020 for the Nov. 3, 2020 General Election. 

Why should I apply for an absentee-by-mail ballot now?

 

You should expect that there will be a heavy demand for absentee ballots this year. Anticipate that the USPS and your local county Board of Election will be overwhelmed as we get closer to the election.


When should I receive my ballot for the November election? 

Absentee-by-mail ballots will be mailed from your local county Board of Election beginning on September 4, 2020.
Can I vote in person even if I received an absentee ballot? Yes. If you have not yet returned your voted absentee-by-mail ballot, you may vote at an early voting polling site or at your precinct on Election Day. You may destroy your unvoted absentee-by-mail ballot once you have voted in person.


How do I know that people are not voting absentee AND in person? Once your absentee-by-mail ballot is received and accepted by the Board of Election, you will be marked as voted in your voter record, and your name will not appear in the poll book at early voting or on Election Day. Should there be a delay in recording your absentee-by-mail vote, the Board of Election will be able to retrieve your absentee ballot and destroy it so that only your in-person ballot will be counted.


When do I need to return my ballot? Absentee-by-mail ballots must be received at your county Board of Election by 5pm on Tuesday, November 3. If mailed, they must be received within three days of the election and postmarked on or before Election Day.


 

How will I know if my absentee ballot has been received and counted? 
When absentee by mail ballots are returned to your county Board of Election, they are reviewed by staff to make sure the ballot application form on the envelope is fully and correctly completed. If there are missing or questionable items, a staff member will notify you in writing to tell you what you will need to do to correct the problem. Every county BOE office will follow the same procedure to allow voters an opportunity to correct missing or incomplete information. Once a determination has been made to approve or reject the ballot, it will be posted on the Voter/Absentee Lookup tool at https://vt.ncsbe.gov/RegLkup/. Following the directions on that link, you will be able to review the status of your absentee by mail ballot: if the returned ballot was received and if it was "approved."  

How is my absentee ballot counted? 

Each absentee ballot container envelope is evaluated by the appointed members of the Board of Elections, who make the final determination of whether the ballot application should be approved. This is done starting five weeks before leading up to the election September 29. After the polls close on Election Day at 7:30pm, the approved absentee-by-mail ballots are counted, and their results are included in the final Canvass of the election. Absentee-by-mail ballots that have been approved are always counted and included in the election results.
PREPARING TO VOTE
When are the next elections? We have an election of some kind every year. In any given year there is an election for municipal and county officials, school board members, state legislators, council of state members, judges, governor, US representatives and senators, US president, and others. Fortunately, we don't elect them all in the same year. The NC State Board of Elections provides a calendar of upcoming elections.

What races and candidates are on my ballot? The races on your ballot will depend on the various voting districts in which you live. Use the voter look up tool to see your different voting jurisdictions and see your sample ballot. The League of Women Voters' VOTE411.org site can help you create a personal ballot.

If I'm an unaffiliated voter, can I vote in the primary election? When you registered to vote, you had the option to affiliate with a particular political party, e.g. Republican or Democrat. If you choose to remain unaffiliated, in North Carolina you still have the opportunity to vote in the primary election. You may request a nonpartisan ballot which includes only nonpartisan contests, e.g. judges, referenda, etc. If you prefer, you may instead choose the primary election ballot for one of the political parties.

How can I learn about the candidates? The League of Women Voters' VOTE411.org site compares many candidates' positions side-by-side. For some local elections, we develop nonpartisan voter guides and sponsor candidate forums. Watch our website and social media pages for information related to local elections.
EARLY VOTING
Who may vote at early voting locations? Any eligible NC voter may vote at any early voting location within their county. 



I missed the voter registration deadline. May I register and vote at an early voting location? Yes. Eligible individuals may register and vote during the early voting period. NOTICE TO SAME-DAY REGISTRANTS

I am a college student. What are my options for registering and voting? College students may register to vote in the county/state of their home address or in the county/state where they are attending college. Students who are already registered to vote in their hometown but now reside in another community can vote by mail by requesting an absentee ballot. Or, take advantage of early voting during a trip home that falls during the Early Voting period.  

May I change my party affiliation at an early voting location? No. Changes to party affiliation cannot be made during the early voting period.

How can I determine whether I'm registered to vote? Check your voter registration status.

Why are the lines so long at early voting locations? Lines are generally not long during the first days of early voting. Voting lines are the longest on the final 3 days of early voting.

I heard that if I vote at an early voting location, my vote may not get counted. Is that true? No. Your vote will be counted on Election Day along with the ballots cast in the polling places.

May any registered North Carolina Voter vote absentee by mail? Yes, and it is easy. Learn more about the process here.  
Public or Members Only?:
Public - accessible to everyone