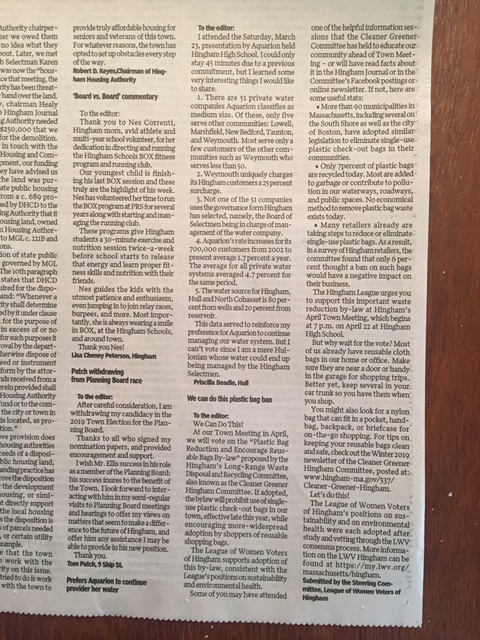 Date of Release or Mention:
Thursday, April 4, 2019
At our Town Meeting in April, we will vote on the "Plastic Bag Reduction and Encourage Reusable Bags By-law" proposed by the Hingham's Long-Range Waste Disposal and Recycling Committee, also known as the Cleaner Greener Hingham Committee. If adopted, the by-law will prohibit use of single-use plastic check-out bags in our town, effective late this year, while encouraging more-widespread adoption by shoppers of reusable shopping bags. The League of Women Voters of Hingham supports adoption of this by-law, consistent with the League's positions on sustainability and environmental health.
Some of you may have attended one of the helpful information sessions that the Cleaner Greener Committee has held to educate our community ahead of Town Meeting – or will have read facts about it in the Hingham Journal or in the Committee's Facebook postings or online newsletter. If not, here are some useful stats:
More than 90 municipalities in Massachusetts, including several on the South Shore as well as the City of Boston, have adopted similar legislation to eliminate single-use plastic check-out bags in their communities.
Only 7% of plastic bags are recycled today. Most are added to garbage or contribute to pollution in our waterways, roadways, and public spaces. No economical method to remove plastic bag waste exists today.
Many retailers already are taking steps to reduce or eliminate single-use plastic bags. As a result, in a survey of Hingham retailers, the Committee found that only 6% thought a ban on such bags would have a negative impact on their business.
The Hingham League urges you to support this important waste reduction by-law at Hingham's April Town Meeting, which begins at 7 PM on April 22nd at Hingham High School. But why wait for the vote? Most of us already have reusable cloth bags in our home or office.  Make sure they are near a door or handy in the garage for shopping trips. Better yet, keep several in your car trunk so you have them when you shop. You might also look for a nylon bag that can fit in a pocket, handbag, backpack, or briefcase for on-the-go shopping. For tips on keeping your reusable bags clean and safe, check out the Winter 2019 newsletter of the Cleaner Greener Hingham Committee, posted at: www.hingham-ma.gov/537/Cleaner-Greener-Hingham. Let's do this!
By Steering Committee, The League of Women Voters Hingham
The League of Women Voters Hingham positions on sustainability and on environmental health were each adopted after study and vetting through the LWV consensus process. More information on the LWV Hingham can be found at www.my.lwv.org/massachusetts/hingham
Issues referenced by this article:
League to which this content belongs:
Hingham