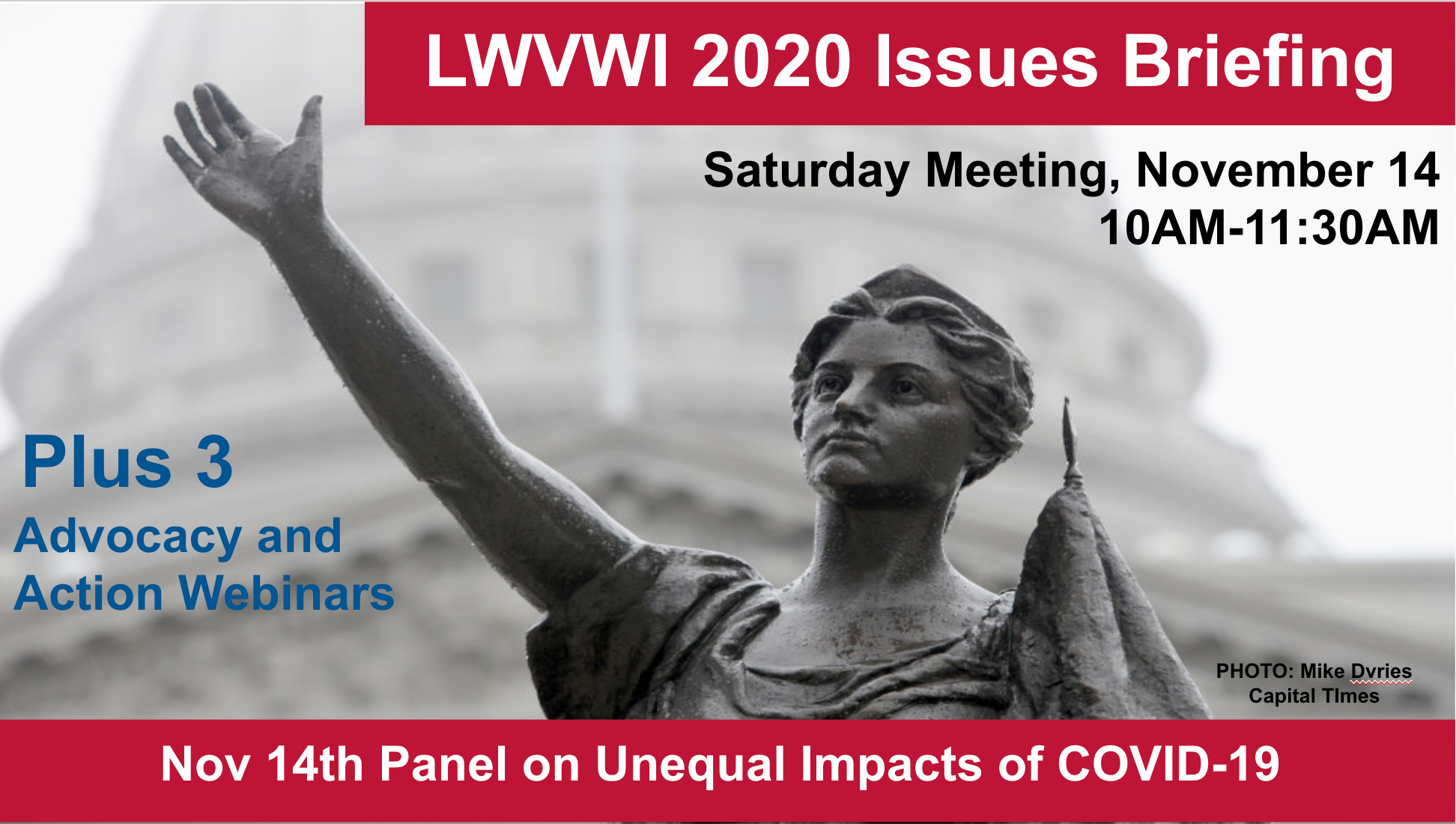 Please join us the week of November 9th as members and friends of the League of Women Voters of Wisconsin gather virtually over three nights and one morning meeting to share advocacy updates on issues related to the League's three central policy areas: Natural Resources, Social and Government Policy. Learn how you can take action on state policy positions at the local level. Join us for a conversation on how League can build capacity for diversity, equity and inclusion within our organization. Learn how COVID-19 has impacted health care, economic and education issues in Wisconsin communities. Please save the dates shared below. Registration is not required. All Issues Briefing programs can be access by clicking on this link: https://us02web.zoom.us/j/86755105040
Monday, November 9, 6:30PM - 7:30PM  
Advocacy for Natural Resources Policy - Focus on Water Quality and Health-related Issues.   
Tuesday, November 10, 6:30PM - 7:30PM
Advocacy for Social Policy - From Exclusion to Inclusion: Building Capacity for Diversity, Equity and Inclusion in LWVWI.
Thursday, November 12, 6:00PM - 7:00PM - please note new time!
Advocacy for Government Policy - Focus on the John Lewis Voting Rights Advancement Act, Redistricting and an Election Summary.
Saturday, November 14, 10 - 11:30AM
Concluding  Issues Briefing Session: A virtual meeting featuring an expert panel discussing the unequal impacts of COVID-19 on Wisconsin's many communities.
*About the event logo: During our Centennial year, LWVWI chose the Forward statue to represent the progressive ideals of good governance, for which the League relentlessly advocates. We acknowledge and respect that Forward also lives as a reminder of systemic injustices yet to be addressed.

Photo Credit: Mike DeVries, Capital Times

League to which this content belongs:
Wisconsin