Current Issues | Position | Archives
CURRENT ISSUES 
OUR SAFE ELECTION CAMPAIGN Fall 2020
11-1-20 — Using the Voting Machines
10-9- 20 — LWVSC vs. Andino absentee ballot signatures lawsuit, full complaint here
10-2-20 - LWVSC files lawsuit for notice and cure re absentee ballot signature problems
9-30-20 — Removal of witness signature requirement still not decided
9-16-20  Update — House approves absentee voting for all 
Sept. 5 - Update re Senate bill and SEC FAQs
Aug. 24 - Action Alert with talking points
Aug. 3 - Action Alert with talking points
 
We know that COVID-19 will still be a significant problem in November. Voters should not have to choose between their health and their vote, and voting should be easily accessible to all registered voters. The League of Women Voters of South Carolina is enlisting its members as well as citizens statewide in a campaign to ensure that the elections will be safe and accessible, both by mail and in person. 
All members and other citizens throughout the state will be needed to help in this work!
LWVSC has written our legislative leadership (see letter here) in strong support of the changes requested by the State Election Commission (see letter here). See also the July 28 letter from SCARE here. The critical needs from our state leaders fall into four general categories.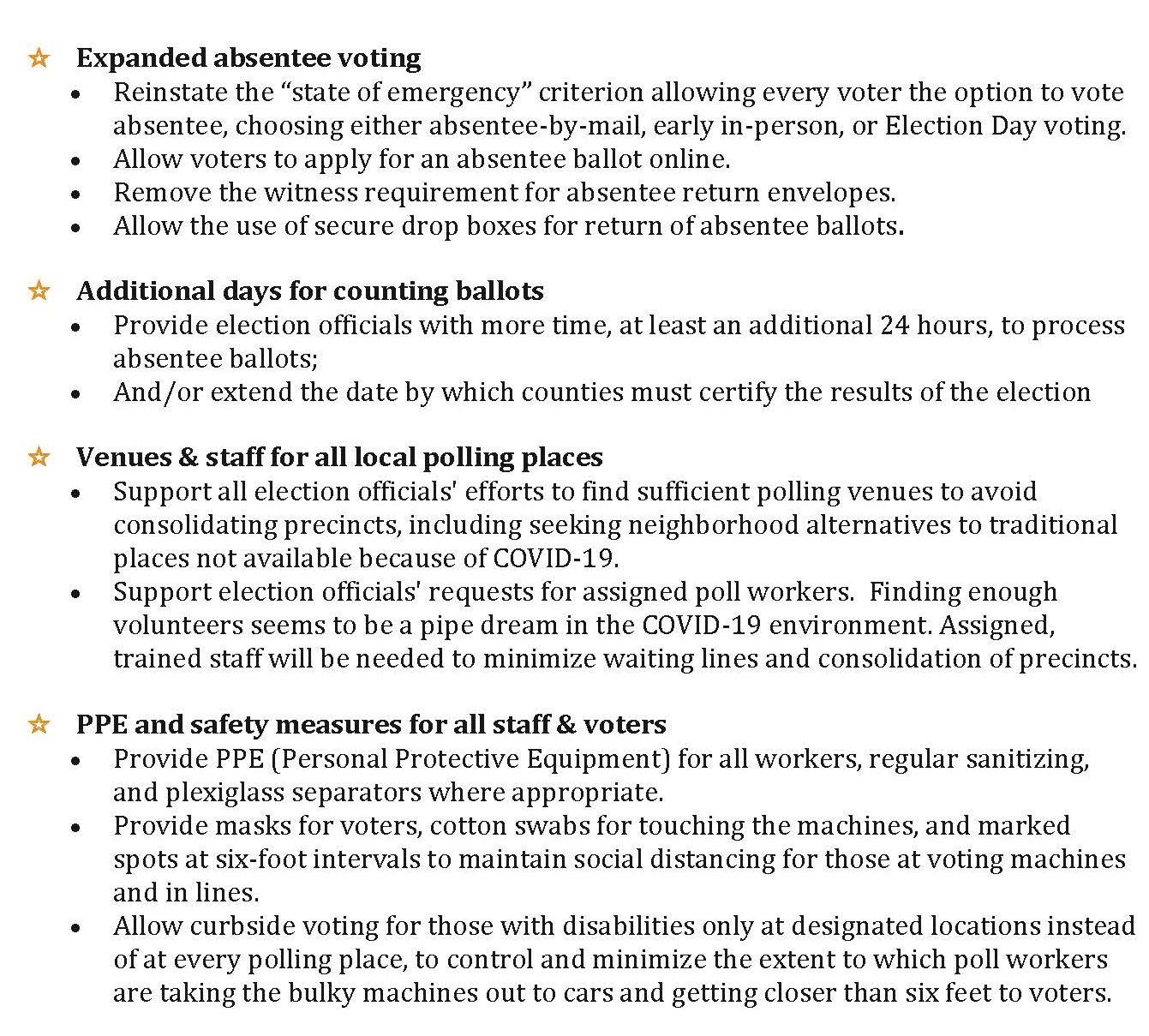 On August 3, an Action Alert was sent, asking all to write to their state Representatives, Senators, and the Governor by snail mail (since they will not be in session in Columbia), advocating for these changes that are so urgently needed. 
Background information and resources re Safe Elections November 2020 
Our tactics for achieving safe elections
LWVSC Amicus Brief re Duggins vs Lucas
Aug. 17 Op-ed by Lynn Teague, VP for Issues and Action
SCARE July 28 letter to state leadership
LWVSC July 20 letter to state leadership
SEC July 17 letter to state leadership
RESOURCE MATERIALS FOR JUNE PRIMARIES 
Polling Precincts for July 23 Runoff Elections
Apply to Vote Absentee by Mail
County Voter Registration Absentee Contact Information
In-Person Absentee Voting Locations and Hours
County Voter Registration Offices
Lynn Teague's interview on ETV's "This Week in South Carolina", May 8, 2020. 
"It's time to give every South Carolina voter the chance to vote safely by mail." LWVSC op-ed in The State, May 7, 2020 
Update on Elections and Pandemic 5/3/20 
S.C. Needs to Protect the Health of Voters in Upcoming Elections, Letter to the Editor, Post & Courier, 4/23/20. 
Voting in the Pandemic: We Need Action", article and call to action in Women's Rights & Empowerment Network (WREN) Blog, 4//20/20. 
Lynn Teague, VP for Issues & Action on Safeguarding Voting 4/10/2020
Protect S.C .Elections During the Pandemic, published 4/3/20 in The Statehouse Report.
POSITION
LWVSC supports ensuring that elections result in fair and transparent outcomes by:
1.  Giving rule-making authority to the State Election Commission to standardize election procedures statewide.
2.  Retain the State Election Commission as an independent non-partisan agency.
3.  Combining local voter registration boards and election commissions.
4.  Providing clear and understandable statement of ballot issues.
5.  Providing for proper conduct of elections through:
     a.  Instituting authority to poll watch for an issue.
     b.  Mandatory training and adequate remuneration for poll workers.
     c.  Mandatory wearing of uniform identifying badges by all poll workers.
     d.  Mandatory uniform identification of polling places.
6.  Moving the primary date closer to date of general election.
7.  Using the primary method of nomination for all certified state, county and national candidates with state and counties administering and bearing cost of all such primaries.
8.  Extend the 50%-plus 1 rule to all state and local primaries and general elections for single seats.
9.  Adopting election systems that ensure better proportional representation of the varied segments of our voting population, within South Carolina, by city, county or statewide, as appropriate in order to achieve better election and/or influence for minorities and women in proportion to their numbers in the population, reduce in election costs, in part by eliminating costly runoff elections, lessen polarization among segments of the population, increase voter turnout and provide more opportunity for third party candidates.
10.  Encouraging and supporting local communities to develop their own election system for local elections, after careful examination of the demography of its community. Systems which may be considered include Instant Runoff Voting (IRV), Limited Voting, Cumulative Voting, more use of at-large seats, and others. An explanation of the method used must be provided.
11.  Implementing automated systems of voting from a statewide list approved by the S.C. State Elections Commission to standardize voting procedures, lessen voter confusion, increase the accuracy of the count, and ensure that all provisional ballots cast by voters lacking Help America Vote Act-required ID are counted by using any of the HAVA provisos
12.  Protecting the integrity of the electoral process in the way elections are conducted by:
     a.  Purchasing only voting systems that include a paper ballot.  Acceptable machines must ensure protection of privacy, allow the voter to verify his/her vote, and provide a reliable basis for a recount if required.
     b.  Mandatory random testing of voting systems during every election.
     c.  Requiring that source code of voting systems be open for inspection.
13.  Independently verifying the results of all federal elections and elections of statewide         officials before results are certified.
14.  Continuing the practice of open primaries in which any registered voter may participate in the primary of either party.
Related national positions:  Representative government (Voting rights, election process)
Background/Action:
A study of alternative election systems was passed at the LWVSC 2003 convention and the number 11 support position was adopted by the state board at its March 2005 meeting. In 2007, with completion of a two-year study of electronic voting in SC, Section 9.f. was amended and Section 12 was added. In 2015 number 2 was amended to refer to an "independent" rather than a "bipartisan" commission. In 2017 the Electoral Democracy section was reorganized to group positions under appropriate subheads and position 18 was clarified. Number 10 was added to support rules for classifying voters as inactive. In 2019, the convention approved a concurrence with a Florida League position supporting open primaries.
ARCHIVES
SC Allows Absentee Voting by All in June Primary  (5-12-20) 

We thank our legislators, but we also thank all LWV members and other South Carolinians who have joined LWVSC's vigorous campaign to help safeguard our elections during the pandemic! There is no doubt that the outpouring of letters mailed to legislators while they were at home, urging action, played a role in bringing about this result. We are delighted beyond measure that the General Assembly took action today, extending the opportunity to vote absentee by mail or in person to all for the June primary -- and also delighted by your responsiveness to our campaign and by your actions! 
 Voter Photo ID

(July 24, 2012)

500,000 Americans Could Struggle to Get Voter ID 
A new Brennan Center report, (July 18, 2012) The Challenge of Obtaining Voter Identification, shows the potential effects of restrictive voter ID laws in 10 states. These states require voters show some form of government-issued ID at the polls. Yet some voters, often poor, minority and living in rural areas, do not have this ID (including a driver's license), and must secure one from a state ID-issuing office. The Brennan Center found that about 500,000 eligible voters live in households without a car and live more than ten miles from a state ID-issuing office that is open more than two days a week. In Texas, for example, in 32 counties near the Mexico border, there are 80,000 eligible Hispanic voters, but only two ID-issuing offices open more than two days a week. Perhaps even worse is the underlying documentation these citizens must produce to procure photo ID. To prove identity, eligible voters may have to show official copies of both their birth certificate and marriage license. The total cost for these records could be as much as $30. The report undercuts claims by voter ID supporters that photo ID is not burdensome. The reality is that, for some eligible Americans, voting is no longer a right of citizenship, but a fee-based privilege. See more at the Washington Post, NPR, Reuters, USA Today, and CBS News.
LWVSC urges federal court to reject South Carolina's restrictive voter ID law, March 27, 2012 
U.S. Department of Justice denies pre-clearance to SC Voter photo ID law, Dec. 23, 2011
LWVSC Action on Voter Photo ID
Voter Photo ID in the Media
Congressional Black Caucus Rallies Preachers to Tackle Voter ID (May 28, 2012)