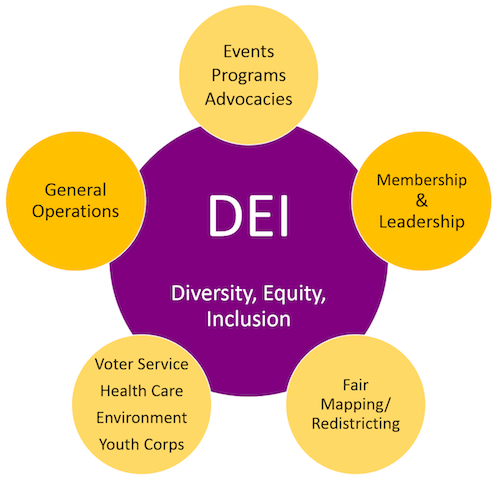 Diversity, equity, and inclusion are mutually reinforcing. Increased inclusion is associated with increased equity; the majority of organizations with higher inclusion and equity also have greater demographic diversity.
Our Commitments 
DIVERSITY
We commit to increase diversity in the recruitment, retention, and retainment at the national, state, and local level, and in the leadership and executive roles.
EQUITY
We commit to prioritizing equity in the work of the LWV staff, board, and members.
INCLUSION
We commit to making deliberate efforts to ensure LWV is a place where differences are welcomed, different perspectives are respectfully heard, and every individual feels a sense of belonging and inclusion. We know that by creating a vibrant climate of inclusiveness, we can more effectively leverage our resources to advance our collective capabilities.
See full statement here.
2023 updates/resources
DEI topics by the month
DEI Education and Resources
DEI Events and Recordings
Recordings: